Sylvia - 2015 - Broadway
Has your pet changed your life? Have you ever wondered what she's thinking when she stares up at you and tilts her head? Could she have the secret to understanding the world at large and your place in it? Or is she just more interested in how your shoe tastes? The world of a middle-aged New York couple is turned topsy-turvy when the husband brings home an exceptionally engaging canine running loose in Central Park in the hilarious and heartwarming comedy, SYLVIA. This wonderful look into the complexities of love and commitment asks what it truly means to be devoted to your partner... and how do you choose between the love of your life and man's best friend
SYLVIA will star two-time Tony winner ANNALEIGH ASHFORD as Sylvia, Tony Award winner JULIE WHITE as Kate, and Drama Desk Award winner ROBERT SELLA as Tom/Phyllis/Leslie.
Video preview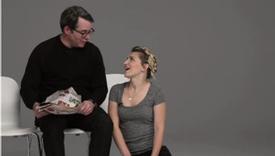 Photo preview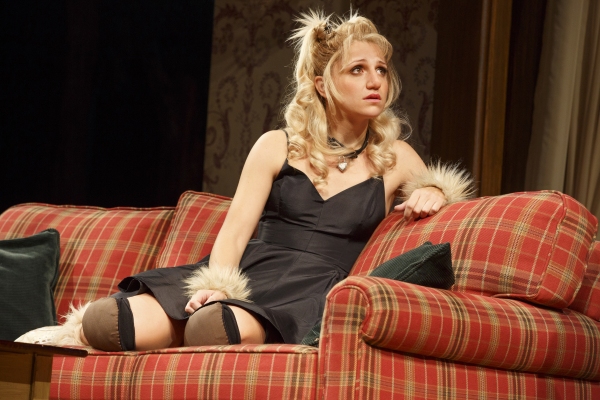 Schedule
Running Time: Two hours, with one intermission
Featured Reviews For Sylvia
'Sylvia' review: Matthew Broderick, Annaleigh Ashford in one good dog - amNY
If Daniel Sullivan's Broadway revival doesn't necessarily make you a fan of dogs, it will most definitely make you a fan of Annaleigh Ashford...Ashford gives an absolutely wonderful performance as the title character...As playfully portrayed by Ashford...Sylvia is everything at once: innocent, excited, confrontational, scared, silly, tender, hormonal, adoring and always adorable. This truly is one of those must-see performances that will stick with you for some time. Broderick gives the sort of cartoonish, oddball performance previously seen in shows such as "The Producers" and last year's "It's Only a Play," but it works unusually well here, and he has terrific chemistry with Ashford. In their hands, "Sylvia" is a most unusual, quite touching love story.
Sylvia review – Annaleigh Ashford excels in canine comedy - Guardian
Ashford plays the title character in AR Gurney's Sylvia, a comedy as predictable as it is indestructible...But if you have ever loved a pet, it is almost impossible not to feel moved by the interspecies romance of Greg and Sylvia...The schtick of the play is that Greg and Kate, like all pet owners, anthropomorphise their animal...And [Ashford's] acting isn't particularly doggy either, although there's a way she tosses her head that does suggest the canine. But there's something sunshiny and genuinely irrepressible about her that transcends any species categories...The director Daniel Sullivan can't teach it many new tricks, but he can give it a typically adroit and able production. Broderick, who sometimes underplays his roles, is a glove-like fit for the moony, diffident Greg...But make no mistake, it's Ashford's play. There is no curbing this dog.