Picnic - 2013 - Broadway
William Inge's Pulitzer Prize-winning play Picnic returns to Broadway in a striking new production helmed by acclaimed director Sam Gold (Roundabout's Look Back in Anger, Seminar). Passionate, sensual and delightfully funny, Picnic is a timeless American classic about the line between restraint and desire.
Video preview
Photo preview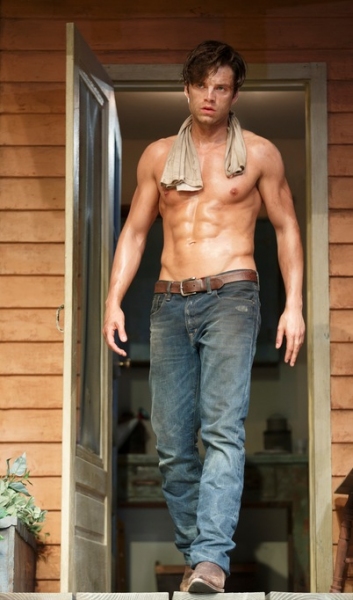 Featured Reviews For Picnic
Review: This 'Picnic' basket has a sexy drifter - Associated Press
Inge might be amazed that his bittersweet examination of life's disappointments is here presented as a broader comedy, but director Sam Gold and the seasoned cast members mostly make it work...Gold has overlaid humorous interpretations onto Inge's stilted and dated dialogue, often to good effect, while still keeping the period feel. If this technique doesn't help amp up the tension that should be building throughout the play, it makes for good entertainment on the handsomely detailed set of scuffed-up houses with a claustrophobic rusty-looking wall towering above.
Kansas Heat That Has Little to Do With the Weather - New York Times
More than any version of "Picnic" I've seen this one, which has been designed with period exactitude by Andrew Lieberman (set) and David Zinn (costumes), highlights the role of prettiness as both a burden and an aspiration...Mr. Stan...mostly registers as more of an objet d'art than a sex object. Ms. Grace...embodies Madge's small-town self-consciousness with an appealing ease...But except for in one dance sequence (nicely staged by Chase Brock), when Madge and Hal discover a shared rhythm, there's not much chemistry flowing between these two. Even clawing at each other's clothes, they somehow seem to be lost in their own, isolating thoughts. The same might be said of the cast as a whole. Which means that, lacking an electric current to invisibly connect its characters, this "Picnic" remains little more than a billboard for prettiness.