Next to Normal - 2009 - Broadway
Next to Normal is a contemporary musical that explores how one suburban household copes with crisis. With provocative lyrics, and an electrifying score of more than 30 original songs, Next to Normal shows how far two parents will go to keep themselves sane and their family's world intact.
Video preview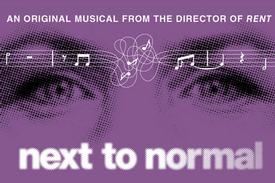 Schedule
Running Time: 2 hours and 20 minutes, with one intermission
Featured Reviews For Next to Normal
Not Ripley, believe it - New York Post
Marin Mazzie and Jason Danieley, married in real life, now play Diana and her long-suffering husband, Dan (previously J. Robert Spencer). This Diana has a caustic, self-aware edge absent from Ripley's portrayal. Ripley exteriorized the character's mental anguish; the poised, lion-maned Mazzie plays things closer to the vest. While the impact of Diana's illness on her loved ones was always an integral part of the show, Mazzie's contained turn helps shift focus to the family dynamics.
Next To Normal - Entertainment Weekly
It's a tough sell: a rock musical about mental illness. One or two people losing their marbles is pretty much de rigeur in a play; where would Shakespeare, O'Neill, Williams, or Tracy Letts (August: Osage County) be without it? But composer Tom Kitt and lyricist-librettist Brian Yorkey chose to devote two hours and 20 minutes (and nearly 40 songs) to this generally unappealing subject; the result, in Next to Normal, is incongruously, sometimes agonizingly beautiful.
Next to Normal Broadway Cast