Next to Normal - Broadway
Next to Normal is a contemporary musical that explores how one suburban household copes with crisis. With provocative lyrics, and an electrifying score of more than 30 original songs, Next to Normal shows how far two parents will go to keep themselves sane and their family's world intact.
Video preview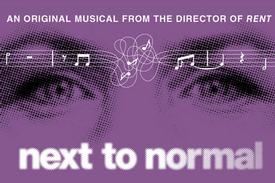 Schedule
Running Time: 2 hours and 20 minutes, with one intermission
Featured Reviews For Next to Normal
Mental illness shatters family in 'Normal' - Associated Press
There are no easy answers to be found in "Next to Normal," a startling, emotion-drenched musical about one family's attempt to cope with mental illness. The show is an impressive achievement, a heartfelt entertainment that has found its way back to New York after an invaluable out-of-town retooling.
Next To Normal - Variety
Unlike the bipolar manic-depressive at the center of "Next to Normal," who draws no lasting salvation from her trials with different medications, this original new pop-rock musical has benefited unequivocally from treatment. Composer Tom Kitt, writer-lyricist Brian Yorkey and director Michael Greif have made a lot of smart changes en route to Broadway, giving the show a more assertive personality, a more consistent tone, sharper focus and greater depth to its relationships. While its weaknesses have not been entirely erased, they are outweighed by the intimate musical's ambition, sincerity and heightened emotional involvement.
Next to Normal Broadway Cast