Low Bridge - 1933 - Broadway
(New York, NY)
110 W. 57th St.
by Jennifer McHugh - Oct 8, 2014
What happens when the best boyfriend in the world does something, well, let's call it "unexpected?" How can Jeremy and Peter continue to work together now that Jeremy has stolen Peter's girlfriend? Turns out, tonight, it all went up in flames.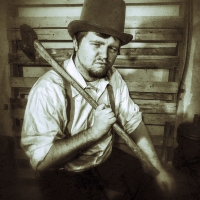 by BWW News Desk - Jan 19, 2020
The American Repertory Theater of WNY will be co-producing with Navigation Theatre Company's in presenting the second showcasing of Western New York playwrights featuring the original work SOMETHING WICKED by James A Marzo. This deliciously fiendish story of the murderous plotting of three brothers and the botched cover-up will be presented at the Compass Performing Arts Center, 545 Elmwood Avenue, Buffalo NY.