I Spy A Spy - 2019 - Off-Broadway
In a melting pot neighborhood in Hell's Kitchen, Jose Rodriguez, an undocumented Mexican delivery guy has an American Dream -- to become someone. Alina Orlova, a beautiful but inept Russian spy, also has an American dream -- to save the family's Fluff 'N Fold. Speeding through one hilariously preposterous plot twist after another, Jose and Alina embark on a wild adventure to fulfill their destinies -- and live the American Dream!
I Spy A Spy is a wacky comedy of immigration, unexpected romance, espionage, and the best chicken-tikka pizza in NYC. It takes us on a musical rollercoaster ride (on which our duo encounters Mexican Thugs, Russian spies, a Pakistani pizza proprietor, a Korean deli owner, and the Department of Homeland Security!), while lovingly examining the power of the American Dream, the challenges we all face, and the universal love for home.
(New York, NY)
423 West 46th Street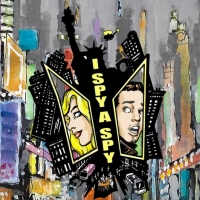 by BWW News Desk - July 30, 2019
Producer Eric Krebs announced today that I Spy a Spy: A Declassified Musical, the new musical-comedy by SoHee Youn and Jamie Jackson will end its engagement at The Theatre at St. Clement's (423 West 46th Street-between 9th and 10th Avenues) following the evening performance on Saturday, August 10th, 2019. I Spy a Spy began performances July 6th, 2019 with the official opening on July 18th. It will have played 10 preview and 26 regular performances.