Honeymoon in Vegas - 2014 - Broadway
The glitz of Sin City meets the razzle-dazzle of Broadway in HONEYMOON IN VEGAS, the new musical that Ben Brantley of The New York Times calls "A classic, with a revelation of a score," cheering "You know you're listening to the sound of success."
Honeymoon in Vegas tells the story of Jack Singer, a regular guy with an extreme fear of marriage. When his girlfriend Betsy puts the pressure on, Jack finally pops the question and they head to Sin City for a whirlwind wedding weekend. But when Vegas wise guy Tommy Korman catches a glimpse of the stunning bride-to-be, and notices her uncanny resemblance to his late wife, he does everything possible to break up the romance and get his own second chance at love.
Stage and screen star Tony Danza ("Who's the Boss?," "Taxi"), Tony nominee Rob McClure (Chaplin), and Brynn O'Malley (Annie) star in this uproarious Broadway premiere with a book by Andrew Bergman (screenwriter of the hit film Honeymoon in Vegas), music by Tony winner Jason Robert Brown (The Bridges of Madison County, Parade), direction by Gary Griffin (The Color Purple), and choreography by Denis Jones (Legally Blonde). Bet the house on this insanely funny new musical full of skydiving Elvises, sexy chorus girls, red-hot romance... and really cold feet.
Video preview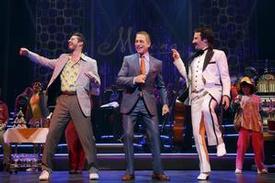 Photo preview
Featured Reviews For Honeymoon in Vegas
What Happens in Vegas Comes to New York - New York Times
As embodied by the bright and bouncy new musical "Honeymoon in Vegas"...the world capital of gambling and neon is everything you want it to be. That means a little hip, a little square, a little dangerous, a little kitschy and a whole lotta delicioussh fun...But here's the bonus, in which East (Coast) meets West: This production is also a real-live, old-fashioned, deeply satisfying Broadway musical in a way few new shows are anymore...Mr. Brown...here finds a shiny, fertile common ground between brassiness according to Broadway and to Las Vegas. His songs seamlessly propel plot and define character in the way numbers did in the heyday of Rodgers and Hammerstein. But he often inflects them with the ring-a-ding swell and swing you associate with Frank Sinatra recordings from the late 1950s and early '60s. He's not just quoting or sending up that style; he's embracing it on his own terms as a keen-eared fan of today. And in a breakout performance, Mr. Danza...matches the nuanced flash of the music.
BWW Review: HONEYMOON IN VEGAS, What Happened in Jersey is Finally on Broadway - BroadwayWorld
Fifteen months ago the news out of Milburn, New Jersey's Paper Mill Playhouse was that composer/lyricist Jason Robert Brown, most known for musicalizing emotional subjects like a Southern lynching or the crumbling of a five-year romance, had, just for the moment, dumped the artsy st
Honeymoon in Vegas Broadway Cast