Honeymoon in Vegas - 2014 - Broadway
The glitz of Sin City meets the razzle-dazzle of Broadway in HONEYMOON IN VEGAS, the new musical that Ben Brantley of The New York Times calls "A classic, with a revelation of a score," cheering "You know you're listening to the sound of success."
Honeymoon in Vegas tells the story of Jack Singer, a regular guy with an extreme fear of marriage. When his girlfriend Betsy puts the pressure on, Jack finally pops the question and they head to Sin City for a whirlwind wedding weekend. But when Vegas wise guy Tommy Korman catches a glimpse of the stunning bride-to-be, and notices her uncanny resemblance to his late wife, he does everything possible to break up the romance and get his own second chance at love.
Stage and screen star Tony Danza ("Who's the Boss?," "Taxi"), Tony nominee Rob McClure (Chaplin), and Brynn O'Malley (Annie) star in this uproarious Broadway premiere with a book by Andrew Bergman (screenwriter of the hit film Honeymoon in Vegas), music by Tony winner Jason Robert Brown (The Bridges of Madison County, Parade), direction by Gary Griffin (The Color Purple), and choreography by Denis Jones (Legally Blonde). Bet the house on this insanely funny new musical full of skydiving Elvises, sexy chorus girls, red-hot romance... and really cold feet.
Video preview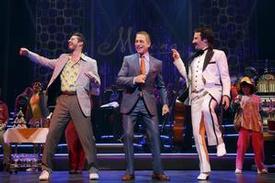 Photo preview
Featured Reviews For Honeymoon in Vegas
Honeymoon in Vegas (2015) - Entertainment Weekly
...it's a great surprise that the large-scale musical version of [Honeymoon in Vegas] is a frothy delight, a pineapple-sweet warm-up in this most frigid season...Director Gary Griffin, scenic designer Anna Louizos and costumer Brian Hemesath leave no set piece or wardrobe switcheroo unturned...and the production meets at just the right intersection of garish and glitzy. The loose vibe seems to have extended to composer Jason Robert Brown, concocting a jaunty score quite unlike his more contemplative, romantic works of late. Vegas has its share of missteps -- a few clunker lines, a still-slightly-sexist undertone...and what has to be the only showtune in history about skin cancer. But a gifted, generous cast puts the entire affair over...But Vegas's jackpot component is McClure...his sincere, alert comic timing and rubberman persona constantly keeps the production on its toes -- he's the veritable, lovable bull in this fitfully funny china shop.
Tony Danza Channels Ol' Blue Eyes In Retro Charmer 'Honeymoon In Vegas': Review - Deadline
You think they just don't make 'em like they used to? To find out how wrong you are, head to Broadway's Nederlander Theatre for a couple of hours of finger-snapping, tap-dancing, hip-swiveling, Elvis-impersonating, night-club crooning fun. That's what the musical adaptation of Honeymoon In Vegas promises and what it delivers, courtesy of an ingratiating performance by Tony Danza...Jason Robert Brown is terrifically talented but he's no Frank Loesser, and...Honeymoon In Vegas is no Guys & Dolls...the show has been struggling through weeks of poorly-attended previews that began before Thanksgiving, when it ought to have opened right away...The biggest toll was taken on Danza...He has a Sinatra-like stage presence, but in truth he's Sinatra's opposite: Warm, not cool; needy, not diffident. Those aren't necessarily bad things, but at the critic's preview his voice was pretty well shot and his dancing was unsteady...The balance of the show has gone much more in McClure's favor...
Honeymoon in Vegas Broadway Cast