Harvey - 2012 - Broadway
Harvey was first brought to the Broadway stage in 1944 and was directed by Antoinette Perry. The play won the Pulitzer Prize for drama in 1944, and its initial run lasted for four years—1,775 performances. James Stewart assumed the role of "Elwood" from Frank Fay in the 1944 production and originated the role in the 1970 production as well as the film adaptation in 1950. Helen Hayes played "Veta" opposite Mr. Stewart in the 1970 production. Jim Parsons stars as one of modern theatre's most lovable characters, Elwood P. Dowd. Charming and kind, Elwood has only one character flaw: an unwavering friendship with a 6-foot-tall, invisible white rabbit named Harvey. In order to save the family's social reputation, Elwood's sister Veta (Jessica Hecht) takes Elwood to the local sanatorium. But when the doctors mistakenly commit his anxiety-ridden sister, Elwood — and Harvey—slip out of the hospital unbothered, setting off a hilarious whirlwind of confusion and chaos as everyone in town tries to catch a man and his invisible rabbit.
Video preview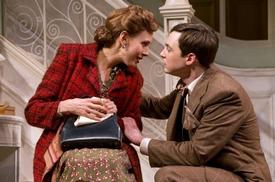 Photo preview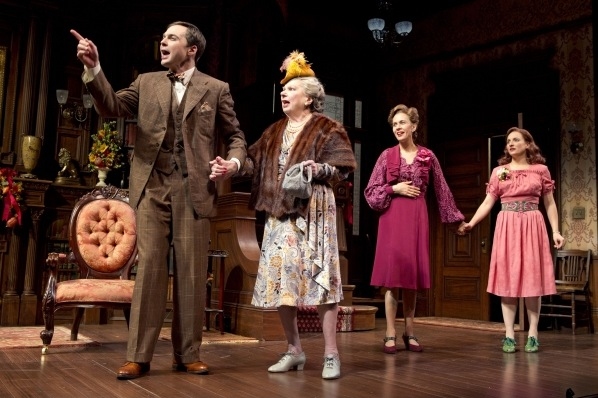 Featured Reviews For Harvey
'Harvey': Don't mind the invisible rabbit - Newsday
If the term summer stock were not so besmirched with straw hats and desperation, the Roundabout's production, starring the sweetly formidable Jim Parsons, could be thought of as Broadway's excellent summer vacation. Parsons, in a small but significant stretch from the haute-geek he plays on TV's "The Big Bang Theory," does not shirk from creating an Elwood P. Dowd who stands tall yet somehow separate from the long, bright shadow cast by Jimmy Stewart in the 1950 movie. Director Scott Ellis has surrounded Parsons with an appropriately fine assortment of character actors to play dithering dowagers, dotty psychiatrists and incredulous family members...Especially impressive is Jessica Hecht, much admired in drama, turning into a multileveled, delightfully goofy comic as Elwood's impatient, financially dependent cousin.
NY Review: 'Harvey' - Backstage
Elwood is a role that has attracted a host of stars, from its originator, the vaudevillian Frank Fay, to Stewart, who replaced Fay in the original Broadway run and starred in the 1950 film, and Art Carney, of "The Honeymooners" fame, who played it on TV in 1958. Jim Parsons isn't much like any of those gentlemen, but he makes Elwood his own in an impressive turn. Chase describes Elwood as "dignified" yet "dreamy," "benign" yet "serious," and Parsons takes her at her word with wonderful stylization while adding just the slightest touch of dry humor. He is so convincing in his give-and-take with Harvey that we almost begin to see the mischievous sprite. Parsons stresses Elwood's concern for others and generosity of spirit, undergirding it with a touch of steel. He's terrific.