Ghetto Klown - 2011 - Broadway
GHETTO KLOWN is the next chapter in John Leguizamo's hugely popular personal and professional story. It follows in the unabashed, uncensored, and uninhibited tradition of his Mambo Mouth, Spic-O-Rama, Freak, and Sexaholix…a Love Story. In Leguizamo's trademark style, the piece explodes with energy, leading audiences on a fever-pitch adventure and heating up the stage with vivid accounts of where he's been and the colorful characters who have populated his life. Leguizamo takes audiences from his adolescent memories in Queens to the early days of his acting career during the outrageous 80s avant-garde theatre scene, and on to the sets of major motion pictures and his roles opposite some of Hollywood's biggest stars.
Video preview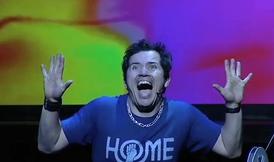 Schedule
Running Time: 2 hours and 15 minutes, with one intermission
Featured Reviews For Ghetto Klown
John Leguizamo stars as 'Ghetto Klown' - New Jersey Newsroom
Devoted fans of John Leguizamo are likeliest to appreciate "Ghetto Klown," his latest solo piece, which opened Tuesday at the Lyceum Theater. As for everybody else, well, witnessing Leguizamo as he talks on and on - and on - for nearly two and a half hours regarding his well-known Latin-Queens roots and his spotty film career and his messy private life turns out to be an increasingly tiresome example of an egocentric actor getting so wrapped up in his lovely self that he forgets to be entertaining.
Ghetto Klown - The Hollywood Reporter
There's no disputing that Leguizamo knows how to command a stage. His limber physicality and bad-boy charisma, his gift for mimicry and vocal inflection, his effortless ability to inhabit multiple characters, all make him a pro at this type of confessional memoir. He tells a punchy story...But the impression this time around is of a writer-performer going through the motions, falling back somewhat lazily on a format that has worked for him in the past, rather than stretching in new directions.
Ghetto Klown Broadway Cast