Finding Neverland - 2015 - Broadway
Based on the Miramax motion picture by David Magee and the play The Man Who Was Peter Pan by Allan Knee, Finding Neverland follows the relationship between playwright J. M. Barrie and the family that inspired Peter Pan, or The Boy Who Wouldn't Grow Up, one of the most beloved stories of all time.
Final Broadway performance August 21.
Video preview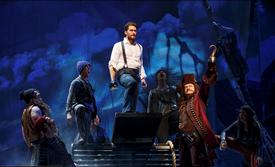 Photo preview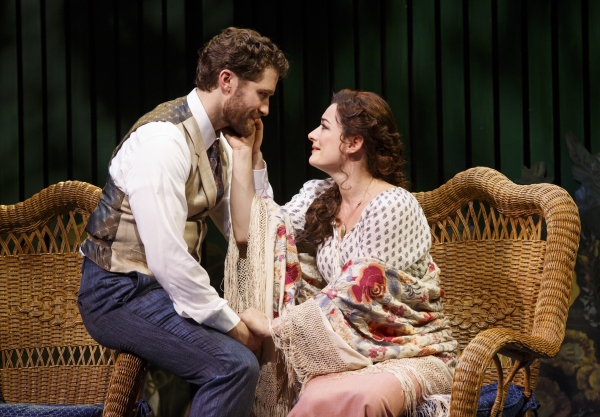 Schedule
Running Time: Two hours and 30 minutes, with one intermission
Featured Reviews For Finding Neverland
Finding Neverland - TimeOut NY
Manic, childish applause might cure the poisoned fairy Tinker Bell, but it's not medicine enough for Finding Neverland, the awkward, garish and manipulative musical...Show-doctored into a state of shrill mediocrity, the patient can barely walk, let alone fly...This being a family musical competing with the superior Wicked, Matilda and others, nonexistent drama has been drummed up (along with the volume, in Jonathan Deans's oppressive sound design) to justify two acts about a successful writer's new project and his crush on a sickly widow. Some of the cartoonish overacting and second-act plucking of heartstrings might be forgiven if the score were enchanting, but Gary Barlow and Eliot Kennedy's tunes (a mix of Britpop and pseudo-music-hall) are generic and burdened by cheap, trite lyrics. When the brightest element in Diane Paulus's tacky staging is Kelsey Grammer as a curmudgeonly producer, you know it's time to get the hook.
'Finding Neverland' review: Matthew Morrison, Kelsey Grammer, Laura Michelle Kelly in Peter Pan musical on Broadway - NY Daily News
Matthew Morrison doesn't push. His ever-genuine and impressively easygoing star turn as writer J.M. Barrie in "Finding Neverland" is what makes his return to Broadway after six seasons of "Glee" cast such an irresistible spell. Less can be more, and he knows it. If only producer Harvey Weinstein and director Diane Paulus had learned that lesson...Barrie's scenes with the boys and Sylvia are the show's most big-hearted. Kelly, known for "Mary Poppins," is so sublime you wish she had more to do. "What You Mean to Me," a romantic pop duet she shares with Morrison, is the production's sweetest moment. Kelly is also center stage for the production's most touching moment near the end -- a breathtaking scene that suggests the people we love are like stars that look over us.
Finding Neverland Broadway Cast