Fiddler on the Roof - Broadway
Fiddler on the Roof is a musical with music by Jerry Bock, lyrics by Sheldon Harnick, and book by Joseph Stein, set in Tsarist Russia in 1905. It is based on Tevye and his Daughters (or Tevye the Dairyman) and other tales by Sholem Aleichem. The story centers on Tevye, the father of five daughters, and his attempts to maintain his family and Jewish religious traditions while outside influences encroach upon their lives. He must cope both with the strong-willed actions of his three older daughters-each one's choice of husband moves further away from the customs of his faith-and with the edict of the Tsar that evicts the Jews from their village.
Video preview
Photo preview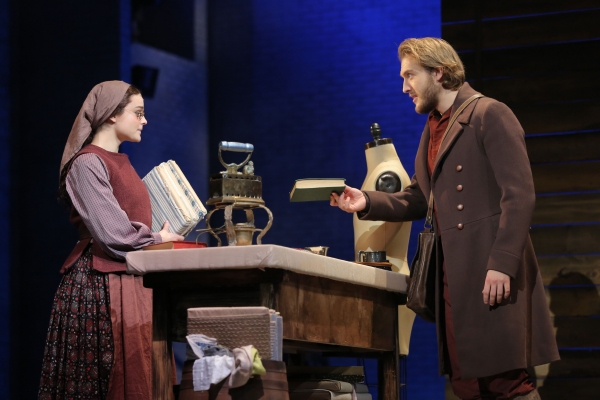 Schedule
Running Time: Two hours and 45 minutes, with one intermission
Featured Reviews For Fiddler on the Roof
'Fiddler on the Roof': Theater Review - Hollywood Reporter
Burstein's performance admittedly is more measured than the familiar and still appealing Topol model of burly physicality and bear-like masculinity. (I can't compare with the original Tevye, Zero Mostel.) But Burstein does larger-than-life by subtler means, which is nowhere more evident than in his full command of the character in "If I Were a Rich Man." The faintest trace of the Borscht Belt in his humor and his wryly self-dramatizing dialogues with God also provides a further bridge in the director's vision of the story as one that still has relevance to contemporary American life.
Fiddler on the Roof: EW stage review - Entertainment Weekly
There are moments of great levity in this production - songs about matchmakers and raising your glass for a toast, among all the classics the show is known for - but its quieter moments were even greater standouts. There's a Sabbath prayer dotted with candle lights in Tevye's home and the houses beyond, the haunting "Sunrise, Sunset" during a wedding scene, and wrenching goodbyes between father and daughters. And everything culminates in an end that harkens back to the show's beginning, when you'll see that red coat again, a reminder that people are still forced to leave behind the homes they love. B+
Fiddler on the Roof Broadway Cast