Elf: The Musical (Non-Equity) - 2022 - US Tour Tickets, News, Info & More
ELF The Musical is the hilarious tale of Buddy, a young orphan child who mistakenly crawls into Santa's bag of gifts and is transported back to the North Pole. Unaware that he is actually human, Buddy's enormous size and poor toy-making abilities cause him to face the truth. With Santa's permission, Buddy embarks on a journey to New York City to find his birth father, discover his true identity, and help New York remember the true meaning of Christmas. This modern day Christmas classic is sure to make everyone embrace their inner ELF.
History:
Production
Run Type:
Limited Run
Market:
US Tour
Previews:
November 05, 2022
Closing:
December 31, 2022

Address:
646 Main Street
Buffalo,NY14202
Elf: The Musical (Non-Equity) US Tour Cast
by Jordan Higginbotham - December 8, 2022
The musical is a fun time for the whole family!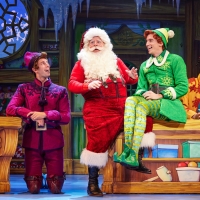 by Nicole Ackman - December 1, 2022
Elf, which was released in 2003, has undoubtedly achieved that status with its endlessly quotable lines and endearingly funny performance by Will Ferrell as Buddy. Many of these beloved holiday films have been adapted for the stage, like White Christmas and A Christmas Story, so it's natural that Elf has received the same treatment.
by Chloe Rabinowitz - November 9, 2022
The 2022 Non-Equity national tour of ELF THE MUSICAL launched November 5 in Paducah, KY, and will visit twelve U.S. cities throughout the holiday season including a stop in St. Louis at the Fabulous Fox Theatre December 20-24.