Doctor Zhivago - 2015 - Broadway
Doctor Zhivago is a heartbreaking epic romance, revolving around the search for love during the final days of Czarist Russia. Based on the Nobel Prize-winning novel and the Academy Award-winning classic, this sweeping saga of romance and revolution now comes to the stage as a stunning new Broadway musical. An honored and acclaimed team of Broadway's best creative visionaries brings the classic story to the stage lead by two-time Tony Award winning director Des McAnuff (Jersey Boys).
Video preview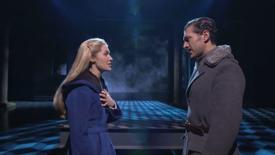 Photo preview
Schedule
Running Time: Two hours and 40 minutes, One intermission
Featured Reviews For Doctor Zhivago
Doctor Zhivago on Broadway: EW review - Entertainment Weekly
Sadly, you never quite believe over the course of the misguided musical version of Doctor Zhivago that there's any great romance -- much less a spark of attraction -- between the poet-physician Yurii Zhivago (Tam Mutu) and his alleged paramour, the idealistic nurse Lara (Kelli Barrett). Mutu...is smoldering and strong, but as with any functional relationship, needs someone his equal. While Barrett's singing voice is undeniably beautiful, she seems to believe every line out of a Russian love story deserves overwrought delivery...Two-time Tony-winning director Des McAnuff...doesn't do the show any favors with dull staging, overuse of projections...and far too many deafeningly-loud explosives through battle scenes...While we're on the subject of auditory unfortunateness, Lucy Simon's score and Michael Korie and Amy Powers' lyrics are haunting at their finest (and admittedly, rarest) moments and just plain boring at their worst.
'Doctor Zhivago': Theater Review - Hollywood Reporter
The show dutifully features all the major characters and dramatic moments familiar from the book and film, but in a breathlessly paced, mechanical style that never manages to engage the heart or mind...As the poet/physician Zhivago, British actor Tam Mutu...strikes a handsome presence and sings strongly. But his character, who should anchor the proceedings, never comes across forcefully, remaining a bland cipher throughout. Equally unmemorable is Kelli Barrett, who despite her blonde prettiness fails to convey the desperate urgency that would make us care about Lara's fate...Only Paul Alexander Nolan...truly impresses, delivering a nuanced turn while displaying truly powerful pipes...Simon's music is suitably lush, but the barrage of power ballads all tend to bleed together, lacking the soaring melodicism of...Les Miz...McAnuff has staged the complex proceedings with his usual solid professionalism, but it mainly comes across as an exercise in managing the voluminous onstage traffic.
Doctor Zhivago Broadway Cast