Doctor Zhivago - 2015 - Broadway
Doctor Zhivago is a heartbreaking epic romance, revolving around the search for love during the final days of Czarist Russia. Based on the Nobel Prize-winning novel and the Academy Award-winning classic, this sweeping saga of romance and revolution now comes to the stage as a stunning new Broadway musical. An honored and acclaimed team of Broadway's best creative visionaries brings the classic story to the stage lead by two-time Tony Award winning director Des McAnuff (Jersey Boys).
Video preview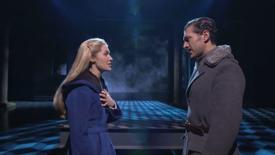 Photo preview
Schedule
Running Time: Two hours and 40 minutes, One intermission
Featured Reviews For Doctor Zhivago
Review: 'Doctor Zhivago,' the Broadway Musical - New York Times
...the dismay here has to do with the musical itself, a turgid throwback to the British invasion of Broadway in the 1980s...If full-throated love ballads and thundering militaristic anthems, baggy plots, highly expositional dialogue and doomed romances are your cup of tea, fire up the samovar and give the show a try. But be warned..."Doctor Zhivago" is inferior in most respects to the musicals it is emulating...Ms. Simon...supplies a hefty measure of love ballads, melodic and skillful but tending to become indistinguishable...Mr. Weller's book does a reasonable job of keeping the complicated political and social upheavals comprehensible. But there's more emphasis on the conflicted romance between Lara and Zhivago...More unfortunately, the actors render their characters without much spark or individuality. Ms. Barrett's Lara looks lovely and sings beautifully but radiates a blandness...In the title role, Mr. Mutu sings strongly and with commitment and does a decent job of communicating the divided loyalties that tear at the heart of Zhivago.
Review: Broadway's 'Doctor Zhivago' is bombastically silly - Associated Press
Visually beautiful but one-dimensional, the show...is breathless and bombastic to the point of silly, undercutting not only the novel by Boris Pasternak but also some really wonderful actors in Tam Mutu and Kelli Barrett, and what could have been a memorable score by Lucy Simon...Nearby, in another theater, "Les Miserables," another flag-waving tale of revolution, looks absolutely subtle in comparison...here the epic nature seems just an excuse for adding flashy elements...Book writer Michael Weller thinks the audience need to be spoon-fed history in huge chunks, and so has used a shovel...Mutu and Barrett bravely give it their all and are utterly perfect as the star-crossed lovers. He is actually understated in a show that is anything but, and captures the inner turmoil of a forbidden love. Barrett's soprano is gorgeous and she is a worthy Lara, bewitching as a woman both tortured and strong...But pulling anyone back from the brink is not something McAnuff does naturally.
Doctor Zhivago Broadway Cast