Disaster! - 2016 - Broadway
Don't miss the strictly limited engagement of DISASTER!, the #1 musical comedy of the year and The New York Times CRITICS' PICK!
Set in the wildest decade ever, DISASTER! delivers earthquakes, tidal waves, infernos and unforgettable 70s hits like "Knock On Wood," "Hooked On A Feeling," "Sky High," "I Am Woman" and "Hot Stuff"—plus, an outrageous cast starring Tony Award winner Roger Bart (You're A Good Man, Charlie Brown), Tony nominee Kerry Butler (Xanadu), three-time Tony nominee Kevin Chamberlin (The Addams Family), Tony nominee Adam Pascal (Rent), Tony winner Faith Prince (Guys & Dolls), Drama Desk Award winner Rachel York (Victor/Victoria), three-time Emmy nominee Seth Rudetsky (SiriusXM's "Seth's Big Fat Broadway"), four-time Drama Desk Award nominee Jennifer Simard (The 25th Annual Putnam County Spelling Bee), Max Crumm (Grease), Lacretta Nicole and Baylee Littrell.
Don't just take our word for it. See for yourself why audiences and critics are wild for this hilarious homage to the era of bellbottoms, platform shoes and the hustle. From the moment the glitter ball starts spinning you'll be dancing in your seat…and rolling in the aisles.
Video preview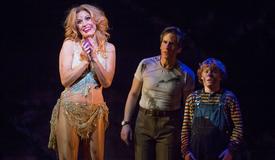 Photo preview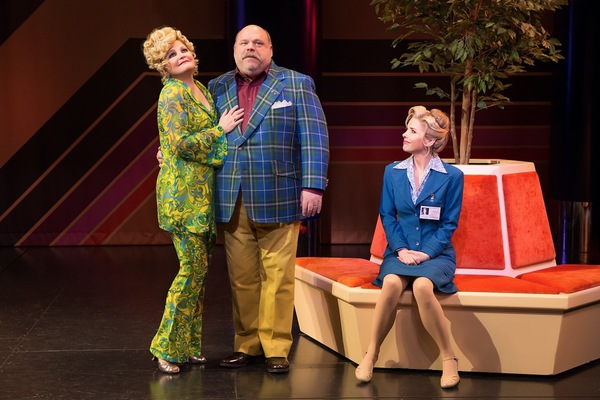 Schedule
Running Time: Two hours and five minutes, with one intermission
Featured Reviews For Disaster!
'Disaster!': Theater Review - Hollywood Reporter
In Disaster!, Jennifer Simard plays Sister Mary, a nun who entered the convent to escape her gambling addiction. Midway through the first act, she tries and fails to tear herself and the quarter burning a hole in her habit away from a gleaming new Hawaii Five-O slot machine as she belts out the Gloria Gaynor disco hit, "Never Can Say Goodbye." Because it's a great song and because the sublimely funny Simard goes from deadpan dourness to libidinous delirium as the fever overtakes her, the number is a riot. However, despite a game cast of Broadway pros, this campy spoof of 1970s screen schlockbusters too seldom matches those heights.
'Disaster!' (Not really!) - Washington Post
It is the caliber of these parodists that keeps the silliness afloat as Tony's earthquake-racked gambling vessel takes on ever more water. Butler, a star of Broadway's tongue-in-cheek "Hairspray" and "Xanadu," and Pascal, the original Roger in "Rent," approach their stock roles with a winning élan. As dyed-in-the-mink Shirley (modeled on Shelley Winters's performance in the peerless 1972 upside-down cruise ship flick "The Poseidon Adventure") Prince gets to show off a gift for physical comedy that becomes more formidable with the worsening of Shirley's terminal illness - a condition apparently native to the Borscht Belt. And Bart, the Carmen Ghia of Broadway's "The Producers," provides the vital services here of a shameless, polished clown. Best of all, though, is Simard's Sister Mary, a guitar-toting scold who cries "shame" at her shipmates' vices while harboring a secret yearning to shout "Blackjack!"