Disaster! - 2016 - Broadway
Don't miss the strictly limited engagement of DISASTER!, the #1 musical comedy of the year and The New York Times CRITICS' PICK!
Set in the wildest decade ever, DISASTER! delivers earthquakes, tidal waves, infernos and unforgettable 70s hits like "Knock On Wood," "Hooked On A Feeling," "Sky High," "I Am Woman" and "Hot Stuff"—plus, an outrageous cast starring Tony Award winner Roger Bart (You're A Good Man, Charlie Brown), Tony nominee Kerry Butler (Xanadu), three-time Tony nominee Kevin Chamberlin (The Addams Family), Tony nominee Adam Pascal (Rent), Tony winner Faith Prince (Guys & Dolls), Drama Desk Award winner Rachel York (Victor/Victoria), three-time Emmy nominee Seth Rudetsky (SiriusXM's "Seth's Big Fat Broadway"), four-time Drama Desk Award nominee Jennifer Simard (The 25th Annual Putnam County Spelling Bee), Max Crumm (Grease), Lacretta Nicole and Baylee Littrell.
Don't just take our word for it. See for yourself why audiences and critics are wild for this hilarious homage to the era of bellbottoms, platform shoes and the hustle. From the moment the glitter ball starts spinning you'll be dancing in your seat…and rolling in the aisles.
Video preview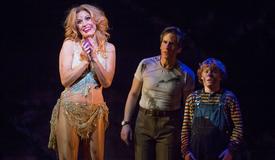 Photo preview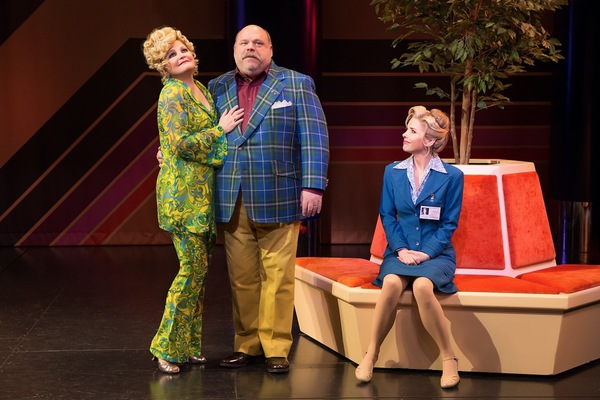 Schedule
Running Time: Two hours and five minutes, with one intermission
Twitter watch
@DisasterMusical
08/05/2020 01:30pm
Congratulations from the Broadway Cast of DISASTER! #NeverCanSayGoodbye
Featured Reviews For Disaster!
Aisle View: 'Sinking Ship' - Huffington Post
I myself would not call Disaster! "Broadway's biggest disaster ever!"...but it does, indeed, founder and sink kind of like cardboard in an overflowing street drain...The show comes from Seth Rudetsky, that ever-rambunctious jack-of-all-trades who most likely emits witty cracks, bell-shaped tones & campy lines in his sleep...Disaster! does make a musical, methinks; but it's one of those small-scale, tongue-in-cheek romps suited for a cabaret bar or way off-Broadway...The best parts of the evening come from the principal cast, who seem to be members of the Rudetsky B'way Circle on the one hand and nifty farceurs on the other...All have been known to carry shows on their own, and all herein chew their way through that cardboard scenery. They...make Disaster! watchable, at least.
'Disaster!' review: Roger Bart in silly 1970s movie parody - Newsday
It's possible to imagine a mood that may only be satisfied by a couple of hours of watching really good performers having a lark with really bad material. It is harder, however, to guess why "Disaster!," an intentionally tacky and silly hit in a cabaret several years ago, would stretch its amiable cheese-ball foolishness into a Broadway theater at no-joke prices. To fault the show for lacking substance would be as nonsensical as expecting "Mamma Mia!" to be thought-provoking. And yet, given the flock of genuine experts who signed on for the spree, it does seem fair to expect more than this sporadically clever, sweetly produced, fantastically performed spoof of a passe genre -- the '70s disaster movie -- in overdone jukebox musical style.