Dead Accounts - 2012 - Broadway
In DEAD ACCOUNTS, Jack's (Norbert Leo Butz) unexpected return throws his family into a frenzy, and his sister Lorna (Katie Holmes) needs answers. Is he coming home or running away? Where is his wife (Judy Greer) everyone hates? And how did he get all that money? Theresa Rebeck's new comedy tackles the timely issues of corporate greed, small town values, and whether or not your family will always welcome you back - with no questions asked.
Video preview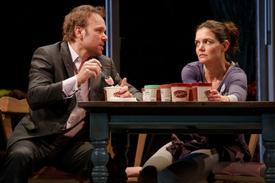 Photo preview
Featured Reviews For Dead Accounts
STAGE REVIEW Dead Accounts (2012) - Entertainment Weekly
Norbert Leo Butz is no stranger to playing shady characters...In Dead Accounts, Theresa Rebeck's engaging but unsatisfying new dramedy, he brings a fast-talking charm to a New York banker named Jack who suddenly shows up at his parents' suburban Cincinnati home with suspicious stacks of cash...With the exception of Jack, though, the characters are as thin as old dish towels. Holmes, effortlessly sympathetic in an underwritten role as a dithering thirtysomething, tears into a populist rant against banks and flirts playfully with Jack's still-in-Ohio high school pal Phil (Josh Hamilton)...The first act of Dead Accounts plays like a claustrophobically staged TV pilot...But Act 2 is like the second episode of a 13-show season, ending on a mini-catharsis as modest as a churchgoing Midwesterner. A full season (or further re-writing) might have allowed Rebeck to flesh out her promising setup, but this wisp of a show pays steep penalties for premature withdrawal. B–
Funny Money - Wallstreet Journal
Sometimes a play that doesn't quite work can be more satisfying than a well-made piece of dramatic yard goods. It isn't hard to see what's wrong with Theresa Rebeck's "Dead Accounts," the story of a manic embezzler who takes the money and runs home to his mother—yet for all its manifest flaws, Ms. Rebeck's new play is seldom predictable and never boring, and her cast, led by Norbert Leo Butz, glitters like sapphires on black velvet. If it's perfection you want, go elsewhere, but you'll miss out on an exceedingly interesting night at the theater.
Dead Accounts Broadway Cast