Dead Accounts - 2012 - Broadway
In DEAD ACCOUNTS, Jack's (Norbert Leo Butz) unexpected return throws his family into a frenzy, and his sister Lorna (Katie Holmes) needs answers. Is he coming home or running away? Where is his wife (Judy Greer) everyone hates? And how did he get all that money? Theresa Rebeck's new comedy tackles the timely issues of corporate greed, small town values, and whether or not your family will always welcome you back - with no questions asked.
Video preview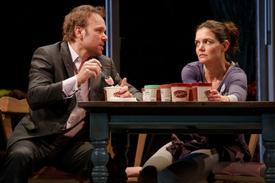 Photo preview
Featured Reviews For Dead Accounts
Theater review: 'Dead Accounts' - NY Daily News
In lieu of an engaging story, unseen people, including the sibs' sick dad, are gabbed about while undeveloped thematic strands dangle. Ideas rise up about staying put in one's hometown vs. leaving, buying into God vs. worshipping money and life in New York vs. the Midwest. After an hour, Jack's wife, Jenny (Judy Greer, miscast as a model of urbanity), arrives and reveals that her soon-to-be ex has raided neglected bank accounts of dead people to the tune of $27 million. The huge sum is a device to reveal Jenny's greed and to give Lorna an aria about why she can't fret about banks getting screwed. Director Jack O'Brien can't do much with the material, so he puts his energy into moody scene changes. And he cast Butz, who he guided to Best Actor Tony wins in "Dirty Rotten Scoundrels" and "Catch Me If You Can."
Prodigal Son, Dripping Sweat and Mystery - New York Times
This comedy about a prodigal son, returned from the wilds of New York City to his family in Cincinnati, seems to float out of memory even as you're watching it. Ms. Rebeck, the author of"Seminar" and "Mauritius," keeps throwing out weighty subjects — from the ethics of Wall Street to the existence of God — but never cultivates them into anything approaching a solid existence. They all blur into a single jet stream of semisnappy dialogue before changing course a few times and evaporating…For at least its first 15 minutes "Dead Accounts" does manage to command your attention. That's because its first scene is essentially a sustained aria of nervous energy for Mr. Butz...Ms. Rebeck doesn't seem to have settled on a tone or, for that matter, a subject. "Dead Accounts" is, I think, meant to be about the inflation of the superficial in a materialistic society, and the attendant, unsatisfied craving for belief...But the play never follows through convincingly on any of its ideas.
Dead Accounts Broadway Cast