Dames at Sea - 2015 - Broadway Tickets, News, Info & More
DAMES AT SEA is a tap-happy celebration of the golden era of movie musicals with a heart as big as the ocean! Directed and choreographed by the three-time Tony Award-nominated choreographer Randy Skinner (42nd Street, Irving Berlin's White Christmas), this gem of a show has been reimagined for the bright lights of Broadway and taken to glamorous and spectacular new heights! Featuring rollicking tap dancing, love at first sight, joyful music and a boatload of laughs, this glittering musical extravaganza has everything you need for an unforgettable night at the theatre.
Video preview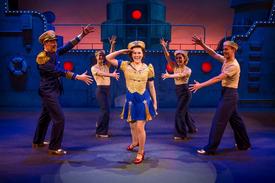 Photo preview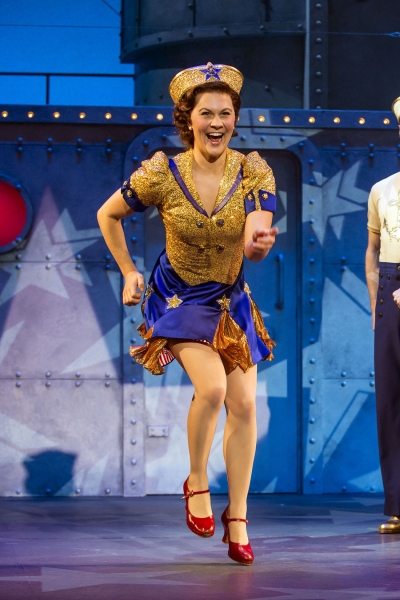 Schedule
Running Time: Two hours and 10 minutes, with one intermission
Featured Reviews For Dames at Sea
'Dames at Sea' Review: Not Quite Clever Enough - Wall Street Journal
"Dames at Sea," the ultra-campy 1966 musical about the you'll-come-back-a-star backstage movie musicals of the early '30s, has finally made it to Broadway. I'm not sure why, since the point of the show...is that it's a low-budget miniature send-up of the genre...though this gussied-up revival...is nothing if not charming. If you like high-velocity tap dancing, you'll see (and hear) plenty of it, and Mr. Skinner flings his tiny cast across the smallish stage of the 597-seat Helen Hayes Theatre with endless visual ingenuity, aided and abetted by Jonathan Tunick's flawless period-style orchestrations for the eight-piece band. So what's not to like? Nothing whatsoever -- but there isn't enough to love about "Dames at Sea," which may have seemed sufficiently witty a half-century ago but has long since been outclassed...
Tap-Happy 'Dames' Proves Seaworthy - NBC New York
"Dames at Sea" is a technicolor, tap dance-filled tribute to the movie musicals of the 1930s. It's delightful, and it doesn't take itself seriously for a minute...After an evening with the "Dames" ensemble of dancers and singers, directed and choreographed by Encores! vet Randy Skinner -- he also worked on the 2001 revival of "42nd Street" -- you will surely agree. It works..."Dames at Sea" opens with Margherita in a flashy, affectionate and snark-free tribute to Wall Street. With that as a bar, it falls to Margherita to set a tone of ironic distance to everything that comes after...Six actors do all the work. "Dames at Sea" is a small-scale musical, crammed into Broadway's teensiest theater, but with the gumption of a mighty battleship.
Dames at Sea Broadway Cast