Dames at Sea - 2015 - Broadway
DAMES AT SEA is a tap-happy celebration of the golden era of movie musicals with a heart as big as the ocean! Directed and choreographed by the three-time Tony Award-nominated choreographer Randy Skinner (42nd Street, Irving Berlin's White Christmas), this gem of a show has been reimagined for the bright lights of Broadway and taken to glamorous and spectacular new heights! Featuring rollicking tap dancing, love at first sight, joyful music and a boatload of laughs, this glittering musical extravaganza has everything you need for an unforgettable night at the theatre.
Video preview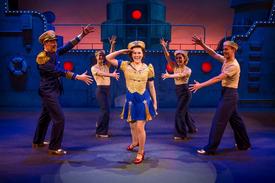 Photo preview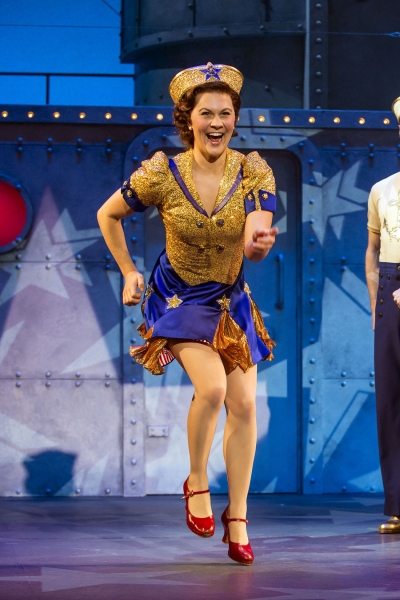 Schedule
Running Time: Two hours and 10 minutes, with one intermission
Featured Reviews For Dames at Sea
'Dames at Sea' doesn't make much of a wave on Broadway - NY Daily News
"Dames at Sea" is a mid-1960s musical trifle that works overtime to be cheeky good fun. Thanks to a cast with twinkle-toes and polished pipes, it succeeds -- for a while. Before long, though, monotony sets in and won't go away. Even top-notch tap-dancing can get repetitive...Now on Broadway for the first time, in this revival choreographed and directed by Randy Skinner, the cast is still small but the production values are beefed up. In some ways, this "Dames at Sea" mirrors what it's lampooning, so it's neither fish nor fowl. Put another way, "Dames at Sea" doesn't make a big splash or sink. It treads water.
Aisle View: 'Dames' on Broadway - Huffington Post
Skinner directs Dames at Sea as well, but it is his choreography which keeps the show on its toes from beginning to end. He has stacked the deck with an ingratiating cast, including two standout performances. So there is plenty for musical comedy audiences to be happy about, especially at a time when there is nothing else on Broadway in this category...The big joke, in the case of Dames at Sea, was that the creators -- along with a cast of six and designers working with a crimped budget in a crimped space -- were giving us a tongue-in-cheek, postage-stamp version of those Warner Bros. movie musicals of the 1930s...The surprise, today, is that the show remains viable; this first Broadway production is impeccably staged and loaded with entertainment, and should delight its target audience.
Dames at Sea Broadway Cast