Update - Broadway Shutdown Extends To September 6 - Click Here
Bullets Over Broadway: The Musical - Broadway
A playwright who needs someone to back his next show. A mobster who needs some way to please his showgirl girlfriend.
This could be the start of a beautiful friendship - or a brand new musical comedy!
Based on the screenplay of the acclaimed film, Bullets Over Broadway brings the talents of Woody Allen and Susan Stroman together for the first time.
Loaded with big laughs, colorful characters, and the songs that made the 20s roar, Bullets Over Broadway is ready to bring musical comedy back with a bang.
Video preview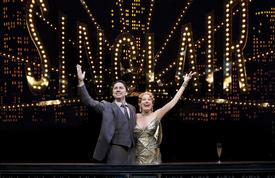 Featured Reviews For Bullets Over Broadway: The Musical
Bullets over Broadway review: shooting too many blanks - Telegraph
In the long and ongoing parade of movies-turned-stage musicals, none of Woody Allen's work has made that transition - until now. And of Allen's nearly 50 films to date, it makes sense that Bullets Over Broadway should first reach the destination referred to in its title. The film honours the theatre in all its vainglorious splendour, so why not bring Allen and Douglas McGrath's Oscar-nominated screenplay home, as it were?
'Bullets over Broadway': Musical of mobsters and old standards - Chicago Tribune
Pastore is exceedingly funny, as is the delicious Marin Mazzie, who blows her way deliciously and fearlessly through the Dianne Wiest role in the film... Brooks Ashmanskas eats his way through the night as the gourmand-actor Warner Purcell, and Nick Cordero stays sandpaper dry, perhaps to a fault, as Cheech... And Lenny Wolpe holds down the normative character, the agent Julian Marx, whose job is to set up the funny lines of the wackos and keep the narrative moving. There are, for sure, times when "Bullets" is stymied by its lack of an original score, although the lyrics have been thoroughly subjugated to its comedic purpose, wittily so. The use of standards was not such a problem on film, since part of Allen's cinematic gestalt was to forge a gauzy comic tribute to a golden age of Broadway. But when you translate Allen and Douglas McGrath's backstage comedy to the Main Stem, somehow the Great American Songbook starts to feel a bit like a cop-out.
Bullets Over Broadway: The Musical Broadway Cast