Bullets Over Broadway: The Musical - 2014 - Broadway
A playwright who needs someone to back his next show. A mobster who needs some way to please his showgirl girlfriend.
This could be the start of a beautiful friendship - or a brand new musical comedy!
Based on the screenplay of the acclaimed film, Bullets Over Broadway brings the talents of Woody Allen and Susan Stroman together for the first time.
Loaded with big laughs, colorful characters, and the songs that made the 20s roar, Bullets Over Broadway is ready to bring musical comedy back with a bang.
Video preview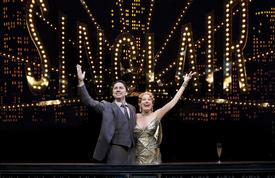 Featured Reviews For Bullets Over Broadway: The Musical
Woody Allen's "Bullets Over Broadway" Opens at NYC's St. James Theatre - Washington Post
The cardinal sin in adapting a Woody Allen film comedy for the stage is forcing the funny. So the creators of "Bullets Over Broadway the Musical," the sledgehammering act of period-tune-driven desperation that opened Thursday night at the St. James Theatre, have a whole lot to answer for. The sinners include Allen himself... and Susan Stroman, the Tony-winning director-choreographer ("The Producers") who amps up the material in uncomfortably vulgar fashion. (Yard-long phallus, anyone, for "The Hot Dog Song?") Except for the heretofore unheralded Nick Cordero, who plays Cheech, the goodfella with the soul of Euripides, no one emerges with a feather in their fedora. Not the hard-working Zach Braff, mugging his way through the ill-fitting role of handwringing nebbish; not the cartoonish Helene Yorke, overplaying the stock-variety floozy; not even the musical veteran Marin Mazzie, in a scenery-chewing turn as an operatically needy stage diva...
'Bullets Over Broadway' is mildly entertaining but not a blockbuster - amNY
In an ideal universe, the new musical "Bullets Over Broadway," based on the 1994 Woody Allen film, would shut down for a few months so that a talented songwriter - perhaps David Yazbek ("Dirty Rotten Scoundrels" or the young team of Benj Pasek and Justin Paul ("A Christmas Story") - could pen an original score for it. To its credit, "Bullets Over Broadway" is mildly entertaining...Although the show contains flashy design elements, amusing one-liners and generally decent performances, the decision to use jazz standards from the 1920s and 1930s instead of an original, well-integrated score proves to be absolutely fatal. By pigeonholing these familiar tunes into the existing plot, they arrive randomly and have almost nothing to do with the characters or plot...Zach Braff works too hard at portraying the stressed-out playwright. His singing voice is pretty thin as well. On the other hand, Marin Mazzie is ideally cast as the grandly theatrical Sinclair, and Vincent Pastore of "The Sopranos" is effortlessly effective as Valenti.
Bullets Over Broadway: The Musical Broadway Cast