Brighton Beach Memoirs - 2009 - Broadway
The Neil Simon Plays - Two of Broadway's best-loved masterpieces from America's most treasured playwright, BRIGHTON BEACH MEMOIRS and BROADWAY BOUND will be playing in repertory at the Nederlander Theatre. Please note that a separate ticket must be purchased for EACH production.
BRIGHTON BEACH MEMOIRS and BROADWAY BOUND were two of the longest running Broadway plays of the 1980s. The works ushered in a new era of appreciation for Neil Simon, with praise for the playwright's hilarious and poignant account of his adolescence, early career and family life in New York in the 1930s and 1940s.
BRIGHTON BEACH MEMOIRS centers on young Jewish teen Eugene Morris Jerome and his extended family living in a crowded home in the Brighton Beach section of Brooklyn in 1937: his overworked father, Jack; overbearing mother, Kate; his older brother Stanley; Kate's widowed sister Blanche and her daughters, Nora and Laurie. As Eugene spends his time daydreaming about a baseball career, he must also cope with his family's troubles, his awkward discovery of the opposite sex and his developing identity as a writer.
BRIGHTON BEACH MEMOIRS stars Laurie Metcalf (Kate Jerome) and Dennis Boutsikaris (Jack Jerome) with Santino Fontana (Stanley Jerome), Jessica Hecht (Blanche), Gracie Bea Lawrence (Laurie), Noah Robbins (Eugene Jerome) and Alexandra Socha (Nora).
BRIGHTON BEACH MEMOIRS originally opened on March 27, 1983 at the Alvin Theatre and played for 1,299 performances. (During the run of BRIGHTON BEACH MEMOIRS, the Alvin Theatre was renamed The Neil Simon Theatre).
Video preview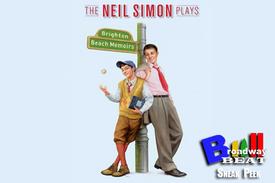 Brighton Beach Memoirs Broadway Cast