Breakfast at Tiffany's - 2013 - Broadway
Based on Truman Capote's most beloved masterwork, Breakfast at Tiffany's is set in New York City in 1943. 'Fred' (Cory Michael Smith) a young writer from Louisiana, meets Holly Golightly (Emilia Clarke), a charming, vivacious and utterly elusive good-time girl. Everyone falls in love with Holly - including Fred. But Fred is poor, and Holly's other suitors include a playboy millionaire and the future president of Brazil. As war rages on in Europe, Holly begins to fall in love with Fred - just as her past catches up with her. Directed by Sean Mathias, the production also stars six-time Emmy Award nominee George Wendt.
Video preview
Photo preview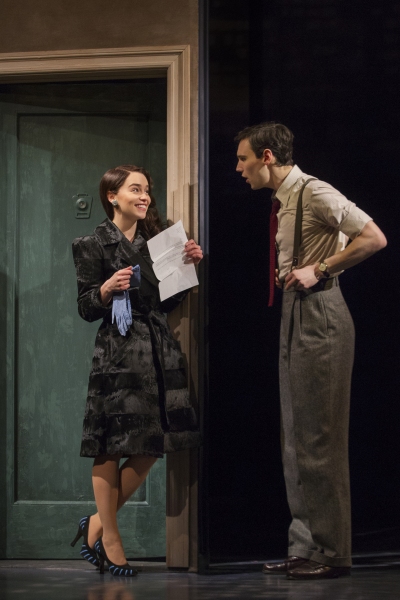 Featured Reviews For Breakfast at Tiffany's
Breakfast At Tiffany's On Broadway: Not A Full Meal - Village Voice
Richard Greenberg's adaptation of Truman Capote's classic novella Breakfast at Tiffany's turns out to be earnest, talky, and rather lifeless despite its good intentions. Telling the story of a chirpy socialite/hooker in 1943 New York and her interaction with a writer who isn't exactly straight, this production stays faithful to the book without turning it into a persuasive piece of theater.
Theater Review: Roughening Up Breakfast at Tiffany's - Vulture
It's more like Breakfast at Woolworth's: grittier perhaps, but hardly aspirational. Can't a girl be left to her dreams?
Breakfast at Tiffany's Broadway Cast