Airline Highway - 2015 - Broadway
In the parking lot of The Hummingbird, a once-glamorous motel on New Orleans' infamous Airline Highway, a group of friends gather. A rag-tag collection of strippers, hustlers and philosophers have come together to celebrate the life of Miss Ruby, an iconic burlesque performer who has requested a funeral before she dies. The party rages through the night as old friends resurface to pay their respects. Airline Highway is a boisterous and moving ode to the outcasts that make life a little more interesting. MTC is proud to present this Steppenwolf production by the writer of the Pulitzer Prize-nominated Detroit, and helmed by the Tony-winning director of Take Me Out and Casa Valentina.
Video preview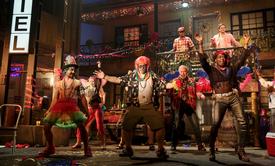 Photo preview
Featured Reviews For Airline Highway
'Airline Highway' review: Denizens of New Orleans - Newsday
D'Amour's heart is with the eloquence of marginalized people -- the strippers, addicts, hookers and, naturally, a drag queen, who live, almost as a messy family, in the Hummingbird Motel, a dilapidated, post-Katrina New Orleans flophouse along the road in the title. But, really, we have been down such a road far too often before...This story has less original characters and a forced peg...Director Joe Mantello wrings poignant performances from the familiar types with their formulaic tragic backgrounds...Julie White finds genuine new dark corners as the aging prostitute who wonders "who is gonna remember us?" K. Todd Freeman does the same as the wise, smart-talking drag queen, as does Caroline Neff as the melancholy young stripper.
'Airline Highway': Theater Review - Hollywood Reporter
In her terrific 2010 play, Detroit, Lisa D'Amour showed gimlet-eyed observation, a spiky sense of humor and a vivid feel for a place and people being left behind by the American Dream...But despite being given a dynamic production with a highly capable cast, this rambling character-driven piece lacks the earlier work's drive and clarity of purpose. While it's a vividly populated canvas, the playwright doesn't do anything much of interest with it...as soulful, alive and frequently funny as D'Amour's characters are, there's also a soggy veil of nostalgia over this gallery of beautiful losers -- hookers, strippers, bartenders, bouncers, drug addicts, dealers, poets and street philosophers. The depiction of these outsiders, with their gritty nobility and purity of heart that remain unseen beyond their community, seems simplistic almost to the point of quaintness.
Airline Highway Broadway Cast