Airline Highway - 2015 - Broadway
In the parking lot of The Hummingbird, a once-glamorous motel on New Orleans' infamous Airline Highway, a group of friends gather. A rag-tag collection of strippers, hustlers and philosophers have come together to celebrate the life of Miss Ruby, an iconic burlesque performer who has requested a funeral before she dies. The party rages through the night as old friends resurface to pay their respects. Airline Highway is a boisterous and moving ode to the outcasts that make life a little more interesting. MTC is proud to present this Steppenwolf production by the writer of the Pulitzer Prize-nominated Detroit, and helmed by the Tony-winning director of Take Me Out and Casa Valentina.
Video preview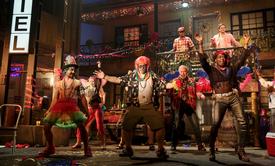 Photo preview
Twitter watch
@mtc_NYC
09/10/2020 04:44pm
Tonight at 7pm: we're premiering an original videoplay, devised by a group of young men whose lives have been impac… https://t.co/o4XEAXLtza
Featured Reviews For Airline Highway
'Airline Highway' a sensual Broadway toast to the Crescent City - Chicago Tribune
With most of its stellar original cast from the Steppenwolf Theatrein Chicago intact, Lisa D'Amour's "Airline Highway" moves to Broadway as...a gentle, even sentimental, portrait of those who keep New Orleans humming...D'Amour, whose previous works include another Steppenwolf premiere, "Detroit," has positioned herself as a chronicler of the souls of American towns and cities...But while much of this play, warmly directed both in Chicago and on Broadway by Joe Mantello, is about the lives of those who form a tight community in their cheap hotel, the other side of D'Amour's protective instincts involves the preservation of New Orleans' distinctively outre counterculture.
'Airline Highway' Review: A Young Playwright's Visit to Familiar Territory - Wall Street Journal
...it's a wholly derivative piece of work that has been knocked together from refurbished spare theatrical parts. Ms. D'Amour might just as well have called it "The Hot L New Orleans, or, An Iceman Named Saroyan"...For all its shameless familiarity, the first act of "Airline Highway" is perfectly watchable, even entertaining, albeit in large part because of the superior acting of the cast, with special honors going to Mr. Freeman, Ms. Neff and Ms. White (the last of whom is incapable of giving a bad performance). Not so the second act, in which Ms. D'Amour pulls out the Tennessee Williams stop and makes her characters emit boozy soliloquies in which they vouch for their own authenticity...
Airline Highway Broadway Cast