A Very Expensive Poison - 2019 - West End
A shocking assassination in the heart of London. In a bizarre mix of high-stakes global politics and radioactive villainy, a man pays with his life.
At this time of global crises and a looming new Cold War, A Very Expensive Poison sends us careering through the shadowy world of international espionage from Moscow to Mayfair.
John Crowley (Brooklyn, The Goldfinch) directs Lucy Prebble's (The Effect, ENRON) reimagining of Luke Harding's jaw-dropping expose of the events behind the notorious death of Russian spy Alexander Litvinenko.
(London, )
(Waterloo) Waterloo Road
London,
A Very Expensive Poison West End Cast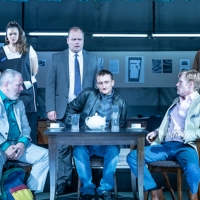 by Marianka Swain - September 6, 2019
How theatre should, or should not, be addressing Brexit is a constant topic of conversation. But while Lucy Prebble's phenomenal new work - a combination of horror, espionage thriller, love story and satire, with dazzlingly theatrical framing - doesn't centre around the B world, it is, unquestionably, the play for the present moment.