A Gentleman's Guide to Love & Murder - 2013 - Broadway
If you're looking for a musical with the laurels of Downton Abbey and the morals of a mongoose, look no further! A Gentleman's Guide To Love & Murder-the new comedy of manners (well, bad manners) that has won unanimous raves
Monty Navarro has just received some really great news! He's a long-lost member of a noble family and could become the next Earl of Highhurst. There are only eight minor issues, namely the other relatives who precede him in line for the title. So Monty does what any ambitious, highborn gentleman would do: he sets out to eliminate them one by one, all while juggling his mistress (she's after more than just love), his fiancee (she's his cousin, but who's keeping track?), plus the constant threat of landing behind bars! But it will all be worth it if he can slay his way into Highhurst Castle... and be done in time for tea.
Tony winner Jefferson Mays (I Am My Own Wife, Gore Vidal's The Best Man) gives one of the most gasp-inducing performances ever attempted on the American stage, playing all eight doomed heirs who meet their ends in the most creative and hilarious ways. Mays leads a knockout cast alongside the delightfully debonair Bryce Pinkham (Bloody Bloody Andrew Jackson) as Monty, the scoundrel whose greatest weapon is his charm. Don't miss this unabashedly raucous new show that Charles Isherwood of The New York Times calls "among the most inspired and entertaining new musicals I've seen in years!"
Video preview
Photo preview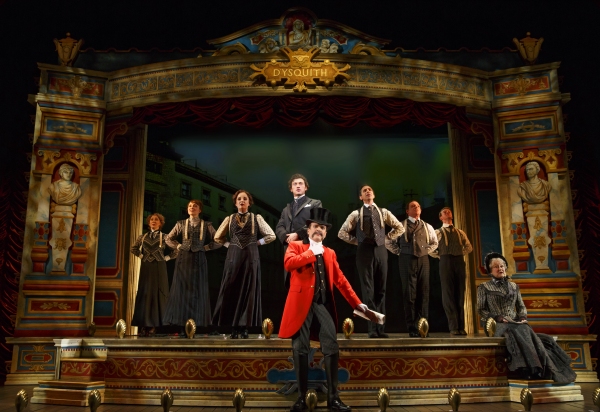 Schedule
Running Time: Two hours and 20 minutes, with one intermission
Featured Reviews For A Gentleman's Guide to Love & Murder
STAGE REVIEW 'A Gentleman's Guide to Love and Murder' - Entertainment Weekly
...This production's secret weapon isn't the poison in Monty's pocket but Lutvak's jaunty score, which sounds both fresh and period-perfect with its echoes of Gilbert and Sullivan and classic British music hall. And the lyrics are as gut-bustingly clever as anything in The Book of Mormon...No one is likely to get sick of the black comedy in A Gentleman's Guide, which remains winsome and charming despite an alarming surfeit of devious and devilish characters. Quite simply, it's a bloody good time.
A Gentleman's Guide to Love & Murder: Theater Review - Hollywood Reporter
During previews, Broadway chatrooms have drawn facile comparison to The Mystery of Edwin Drood, the Tony-winning 1986 Rupert Holmes musical that was given a sparkling revival last season. While there's some overlap in the pastiche score and vintage British music hall-style staging, Gentleman's Guide is far superior, propelled by a rollicking story, humor of the most delectable amorality and the cleverest lyrics assembled in quite some time. Just hearing Mays as the ridiculously posh Lord Adalbert D'Ysquith scoff his way through "I Don't Understand the Poor" (a wicked anthem for the one percent) is enough to restore an audience's faith in musical comedy while getting them in the mood to off some toffs.
A Gentleman's Guide to Love & Murder Broadway Cast