West Coast Premiere Of MEET ME AT DAWN Comes to the Radial Theater Project Next Month
Performances run March 24 - April 8, 2023.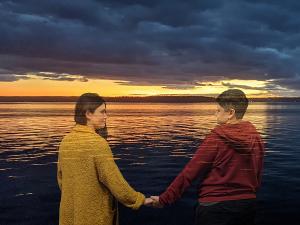 Radial Theater Project has announced that tickets are now on sale for the twice-postponed West Coast Premiere of Meet Me at Dawn by Zinnie Harris, running March 24 - April 8, 2023 at 18th & Union in Seattle's Central District.
Two women wash up on a distant shore. They look for a path home, but discover that this unfamiliar land is not what it seems. Loosely inspired by the myth of Orpheus and Eurydice, Zinnie Harris' Meet Me at Dawn is a tenderly lyrical and utterly modern fable exploring the mystery of grief and the triumph of everyday love.
Directed by David Gassner
Featuring Jennifer Faulkner and Jordi MontesCreative and Production Teams: José Amador, Kwame Braun, Amy Gang, Sandra Huezo-Menjivar, Amy LaZerte, Becca Pauza, Amber Lynn Parker, Robin Macartney, Anna Shih, Robertson Witmer
Since its establishment in 2011, Radial Theater Project has been dedicated to creating and presenting original and innovative theatrical works in collaboration with local theater artists. Radial Theater Project created Locally Grown, a festival of new works by local theater artists, and in 2016 Radial Theater Project was the first resident company at 18th & Union Past world premieres include Karaoke Suicide is Painless by Celene Ramadan, 99 Layoffs by Vincent Delaney, Beating Up Bachman by Wayne Rawley, Aisle 9 and Profile conceived by Aimée Bruneau, and two themed anthologies of short commissioned scripts, Cell Phone Waiting Lot and The Pandemic Plays. Other past productions include White Rabbit Red Rabbit by Nassim Soleimanpour, An Oak Tree by Tim Crouch, Hostages by Yussef El Gundi, and George Orwell's 1984, adapted by Michael Gene Sullivan.
Zinnie Harris' plays include the multi-award-winning Further than the Furthest Thing (National Theatre/Tron Theatre; winner of the 1999 Peggy Ramsay Award, 2001 John Whiting Award, Edinburgh Fringe First Award), How to Hold Your Breath (Royal Court Theatre; joint winner of the Berwin Lee Award), The Wheel (National Theatre of Scotland; joint winner of the 2011 Amnesty International Freedom of Expression Award), Nightingale and Chase (Royal Court Theatre), Midwinter, Solstice (both RSC), Fall (Traverse Theatre/RSC), By Many Wounds (Hampstead Theatre) and the trilogy This Restless House (Citizens Theatre/National Theatre of Scotland), based on Aeschylus' Oresteia. Also, Ibsen's A Doll's House for The Donmar Warehouse, Strindberg's Miss Julie for The National Theatre of Scotland and Webster's The Duchess (of Malfi) (Royal Lyceum Theatre). Zinnie received an Arts Foundation Fellowship for playwriting, and was Writer in Residence at the RSC, 2000-2001. She is Professor of Playwriting and Screenwriting at St Andrews University, and was the Associate Director at the Traverse Theatre from 2015-2018.
David Gassner is Producing Director of Radial Theater Project, and was founding Producing Director of 18th & Union. Radial Theater productions include Karaoke Suicide is Painless, 99 Layoffs, Beating Up Bachman, Hostages and 1984. He's a former member of Pony World Theater, where he directed We Are Proud to Present a Presentation... and Or, the Whale, and created the role of Ivan in Suffering, Inc. As Artistic Director of Theater Schmeater (2007-2009) he directed Maria/Stuart and The American Pilot. He's also directed productions at ArtsWest, Seattle Public Theater, Balagan Theatre, and Mt. Baker Summer Rep. Before moving to Seattle in 2004, he co-founded Teatro Shalom in San Francisco, and was Executive Director of Dreamweavers Theatre in Napa, CA. As an actor he's appeared in An Oak Tree by Tim Crouch, Underneath the Lintel by Glen Berger, and in other local productions at Seattle Shakespeare Company / Wooden O, Seattle Public Theater and Theater Schmeater. David saw the world premiere of Meet Me at Dawn in Edinburgh in 2017, and is delighted to bring this extraordinary play to Seattle.
Meet Me at Dawn was first presented at the Traverse Theatre, Edinburgh, as part of the Edinburgh International Festival, on 4 August 2017.