THE NEVERBORN by Kelleen Conway Blanchard Opens August 2 at Annex Theatre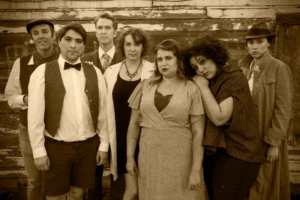 The Neverborn is a new, creepy comedy written by Kelleen Conway Blanchard and directed by Catherine Blake Smith, premiering at Annex Theatre on August 2 and running until August 31.
Talented Annex friends and family portray an ensemble of bizarre group of characters in a 1930s Dustbowl era world only somewhat like our own. Two orphaned sisters, Lotte and Bettina Black, murder the Matron at the Starling Home for Feeble Minded children and set out to find their-probably not dead-mother. Soon they are pursued by a tormented detective, a gifted Reverend's son, and a vengeful haunted baby painting. Annex's Gothic Sweetheart returns to the
Annex Theatre
stage with a magically creepy tale.
Tickets are $10-20 sliding scale available at bit.ly/NeverbornTix
Website
Facebook Page
The cast is as follows:
Pilar O'Connell • - Bettina, the smart twin
Madison
Jade Jones
∞ - Lotte, the sweet twin
Mike Gilson o - Jack Jr., the gifted Reverend's son
Chad Ro o - Tom, the prophetic boy with gills
James Weidman o - Reverend Jack and others
Val Brunetto • - Mother, Eudora Swiles and others
Sasha Bailey • - Missus Starling & Veronic Wald
Zenaida Rose • - Detective Penny and others The production team is as follows:
Production Manager - Omar Faust o
Stage Manager - Brandon Eller o
Production Designer - Adam Zopfi-Hulse o
Lighting Designer - Jacob Viramontes o
Sound Designer - Josh Valdez o
Assistant Sound Designer - Wei Low •/∞
Choreographer -
Jen Nelson
•
Associate Production Designer - Adrian Kljucec o
Production Intern - Chapin Montague • Pronoun Guide
They/Them ∞
She/Her •
He/Him o
Annex Theatre
is a democratic collective of volunteer artists dedicated to producing bold, new work in an environment of improbability, resourcefulness, and risk.
Photo Credit: Ian Johnston
Related Articles View More Seattle

Stories

Shows