SketchFest Seattle Celebrates 20 Year Opening on September 5th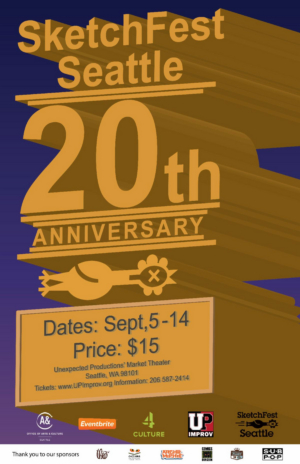 SketchFest Seattle celebrates its twenty year opening on September 5, 2019 at 8:30. SketchFest showcases the talents of local favorites and unique sketch teams from throughout North America.
Unlike other Sketch festivals around the country, SketchFest Seattle is completely staffed, curated and organized by volunteers who spend countless hours to launch the annual gathering.
Brace yourself for an amazing two weeks of sketch, solo shows and alternative comedy
"SketchFest Seattle is the world's original sketch comedy festival," said Beth Peterson, SketchFest's Managing Director. "Every year we bring together the most talented and hilarious comedians we can find across the globe, pairs them with the best and brightest local acts already killing it in town."
SketchFest Seattle started in 1999 when the legendary performer and writer Mike Daisey looked around at his friends and saw something special: an emerging community of sketch comedians eight or ten groups strong, more than fifty people deep. What would happen, he thought, if they combined forces? SketchFest '99 presented nine Seattle comedy troupes performing 8-minute samplers to sold-out audiences at Theater Off Jackson. Seattle celebrity John Keister hosted the event and ended up using certain groups on future episodes of his television show, "The John Report with Bob."
"I actually remember, attending the very first SketchFest back in 1999," said longtime volunteer, Ben Laurance. Along with his comedy partner Paul Gude, Laurance performed in a handful of Sketch Fest's late night experimental series PUSH in the mid-2000's. "Finally, in 2009, my team, gudelaurance performed a full set on the SketchFest main-stage, where I met then-Artistic Director Andrew Connor of the Cody Rivers Show." Andrew invited Laurance to join the SketchFest staff and take over production of the Comedy Film Challenge, which he happily accepted, and he's been producing that event since. He is SketchFest volunteer and champion and enjoys helping foster the sketch scene here in Seattle.
"I chose to get involved in SketchFest because I'm passionate about sketch comedy, and about Seattle's sketch comedy specifically. Seattle's sketch scene is still growing, and it makes me happy to think that I'm a part of it," said new volunteer, Cassia Ward.
This year SketchFest will pack two weeks of comedy with over 15 performances with live acts from Seattle across the U.S. and Canada from 9/5 through 9/14 at Unexpected Productions' Market Theater in Pike Place Market. SketchFest also brings back the Comedy Film Challenge on Sunday, 9/8 at the Central Cinema.
Never satisfied with the mediocrity that abounds in the televised sketch world, the Seattle sketch scene has gained nationwide notoriety over the past decade for its innovative and theatre-influenced take on the live sketch comedy form.
Over the years SketchFest has brought in a wide range of guest performers including: Michael Ian Black who starred in several TV comedy series, including The State, Viva Variety, Stella and Wet Hot American Summer: First Day of Camp; Joe Wengert an actor and writer, known for Big Mouth, Kroll Show and New Girl; James Adomian, best known for his work on Comedy Bang!; Arthur Meyer writer and actor, known for The Tonight Show Starring Jimmy Fallon and Justin Tyler, writer and producer, known for Homeschooled.
"The performers at the festival are curated by the staff and board of SketchFest Seattle. Performers are judged not only on the quality of their comedy, but the diversity of styles and background. SketchFest has continually fostered a place where different groups of people can try comedy and has established a reputation for presenting the best and most original comedy from around the globe," explains Festival Director, Peterson.
"Once we receive a group's submission video, it is reviewed by our staff who then place it in the yes, no, or maybe categories. Each staff member is asked to evaluate the video on things like scene transitions, laughs per minute, and style of comedy. After much deliberation, we then choose the lineup for the festival," said volunteer, Zak Nelson.
This year's festival will include stand-up comedy, hybrid sketch acts, and solo comedy theater shows alongside its robust line-up of sketch troupes.
SketchFest also includes workshops and educational opportunities. This year Laura Hall, the Musical Director from Whose Line is it Anyway? is teaching a musical improv workshop on September 8. Last month, Kevin McDonald from the Kids in the Hall taught an improv to sketch workshop.
In the past two decades, SketchFest has seen the Seattle sketch scene grow into a strong community made up of a wide variety of artists/producers, super-fans and volunteers that help make the sketch comedy scene function and thrive. "The audience, casual and super-fans alike, are the most important part of this organization. SketchFest seeks to put local groups in the same shows as out of town performers, which helps expose audiences to different types of comedy," concludes Nelson.
This annual sketch festival is favorite with audiences, critics, and performers alike, and has grown over the past two decades to be the première sketch festival in the PNW.
Tickets are $15. Buy: bit.ly/2H4tMjr
Related Articles View More Seattle

Stories

Shows
More Hot Stories For You