RIDE THE CYCLONE, A Co-Production Between The 5th Avenue Theatre And ACT Opens This Week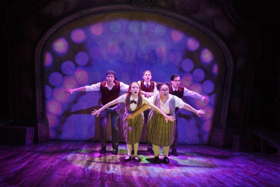 Ride the Cylcone, this season's dark and hilarious co-production between The 5th Avenue Theatre and ACT - A Contemporary Theatre, is now in preview performances and has its official opening night this Thursday, March 22 at ACT - A Contemporary Theatre. The award-winning director and choreographer Rachel Rockwell has continued to refine and explore the world of Ride the Cyclone with its writers Brooke Maxwell and Jacob Richmond, returning to direct after working on its two previous U.S. productions in Chicago and Off Broadway. This co-production, which is the eighth collaboration between The 5th and ACT, will showcase new developments to the script and score. At least one third of the script has been newly created for this production, which is in addition to countless small but crucial tweaks and refinements. These new developments have continued to define and shape the world that the Saint Cassian High School Chamber Choir inhabits onstage.
"One of the things that excites me the most about this collaboration between ACT and The 5th Avenue Theatre is that we are practically back in Victoria, B.C. where Ride the Cyclone began," said director Rachel Rockwell. "There is a strong Northwestern sense of humor in this piece that makes it feel a bit like we are coming home. One critical quality of developing new work is bravery and I find this especially true with Ride the Cyclone - it's such a unique piece. There is a real sense of bravery at both ACT and The 5th that has allowed us to push past some long-standing roadblocks in the storytelling. I think there will be greater clarity in this new version because of that and I'm looking forward to hearing how Seattle audiences respond, especially to the humor."
Now playing through May 20, 2018 (press opening Thursday, March 22, 2018) at ACT - A Contemporary Theatre (700 Union Street), tickets for Ride the Cyclone start at $49 and can be purchased at www.acttheatre.org, by phone at 206-292-7676 or at the ACT Box Office.
At 8:17 PM, the Saint Cassian High School Chamber Choir will board the Cyclone roller coaster. At 8:19, the front axle will break, sending them to their tragic demise. Trapped in fantastical carnival-like purgatory, the recently deceased teens discover a mechanical fortune teller, who invites them to tell their stories of life interrupted, with the promise of a prize like no other. Welcome to Ride the Cyclone, a wildly original new musical. Part comedy, part tragedy and completely unexpected, this wonderfully weird story is at every turn satirical, macabre, creepy, campy and hilarious.
About the Cast
Lillian Castillo makes her 5th Avenue Theatre and ACT Theatre debut as Constance Blackwood. She previously performed this role in Ride the Cyclone at MCC Theatre Off-Broadway and at Chicago Shakespeare Theater. Her regional credits include The Taming of the Shrew, Shakespeare's Greatest Hits and Seussical at Chicago Shakespeare Theater, Mamma Mia!, Sister Act, Man of La Mancha and She Loves Me at Marriott Theatre, Hairspray, Sleeping Beauty and West Side Story at Drury Lane Theatre, Why Do Fools Fall in Love at Milwaukee Rep, In the Heights at Paramount Theatre, Hairspray and Glorious! at Arkansas Rep, Hairspray at Phoenix Theatre and Macbeth, School for Wives and Private Lives at Utah Shakespeare Festival. She would like to thank her husband, family and Stewart Talent for their support.
Karl Hamilton makes his Seattle debut as The Amazing Karnak. He performed Off-Broadway in Ride the Cyclone at the MCC Theatre. He has performed regionally at Asolo Repertory Theatre, Peninsula Players Theatre and Timber Lake Playhouse and has been seen onstage in Chicago at Goodman Theatre, Chicago Shakespeare Theater, Court Theatre, Marriott Lincolnshire, Drury Lane Oakbrook, Ravinia Festival, Chicago Children's Theatre, Broadway Playhouse, Porchlight Music Theatre, Mercury Theatre, Theatre at the Center, Congo Square and First Folio Theatre. For the last decade, Hamilton has remained a proud and outspoken member of the Actors' Equity Association. Hamilton is married to actress Elizabeth Haley.
Emily Rohm makes her West Coast debut with The 5th and ACT Theatre as Jane Doe. Rohm played the role of Jane Doe in the Off-Broadway production of Ride the Cyclone at MCC Theatre where she earned a Lucille Lortel Award nomination for her performance. She also originated the role in the Chicago production of Ride the Cyclone at Chicago Shakespeare Theater. Other favorite roles include Mary Poppins (Paramount Theatre), Arminy in Carousel (Lyric Opera), Marian Paroo in The Music Man, Jane Ashton in Brigadoon (Goodman Theatre), Belle in Disney's Beauty and the Beast (Chicago Shakespeare Theater), Johanna in Sweeney Todd (Drury Lane Oakbrook) and Beggar Woman in Sweeney Todd (Paramount Theatre). She is also the owner of Röhm, a clothing design label that specializes in handmade clothing and bridal garments.
Chelsea LeValley joins the cast as the Ladies' Understudy. Her regional credits include The 5th Avenue Theatre/ACT (Assassins), The 5th Avenue Theatre (Carousel), Seattle Repertory Theatre/La Jolla Playhouse (Come From Away), ACTLab (Buzzer), Village Theatre (original cast of A Proper Place), Seattle Shakespeare (Medea), Taproot (original cast of Persuasion, Big Fish), Intiman (original cast of Stu for Silverton), Hangar Theater and Seattle Children's Theatre. LeValley is a bi-coastal director, playwright and award-winning actor. Her curriculum using social justice theater is presented at conferences across the country and she received a BFA from Elon University. Audiences can see her next at San Antonio Playhouse as Katherine in Newsies.
Connor Russell joins the cast as Ricky. He toured nationally and performed in The 5th Avenue Theatre's production of Disney's The Little Mermaid as Flounder and has performed regionally in Disney's Aladdin, A Chorus Line, Hairspray Anniversary Concert and The Music Man (The 5th Avenue Theatre); Quentin in October Sky (The Old Globe); Idaho! The Comedy Musical (The Smith Center); Beatsville (Asolo Rep); A Christmas Carol (Pittsburgh CLO); White Christmas (Arkansas Rep); High School Musical (Seattle Children's Theatre) and Gypsy (Capital Repertory Theatre). His select film credits include Paul in The Hinterlands (IAWTV Award nomination for Best Leading Actor), Brand Upon the Brain (Toronto Film Festival/New York Film Festival) and Truth Slash Fiction (SeriesFest and ITVFest Winner). Russell received a BFA from Point Park University.
Adam Standley returns to the 5th Avenue Theatre and ACT Theatre as Misha. He is a Core Company Member of ACT Theatre, a founding member of The Satori Group and a carpenter with LCM Builders. He has performed at The 5th in How to Succeed in Business Without Really Trying, at ACT Theatre in The Legend of Georgia McBride, Tribes (Gregory Award), Stupid F*cking Bird (Gregory Award Nomination) and Mr. Burns: a post electric play, at Intiman in Angels in America, Part 1 and 2 and in numerous Satori Group works.
Nicholas Tarabini joins the cast as the Men's Understudy. Past 5th Avenue Theatre credits include Paint Your Wagon, Mercer Girls and The Sound of Music. He has performed regionally in Paint Your Wagon (Ordway), American Idiot and Peter and the Starcatcher (ArtsWest), Into the Woods (Village Theatre), Next to Normal and Legally Blonde (Second Story Repertory Theatre) and Fiddler on the Roof (Seattle Musical Theatre).
Tiffany Tatreau makes her 5th Avenue Theatre and ACT Theatre debut as Ocean O'Connell Rosenberg. She previously performed the role of Ocean in the Off Broadway and Chicago Shakespeare Theater productions of Ride the Cyclone. Her regional credits include Rock of Ages (Regina), Mamma Mia! (Sophie), Sister Act (Mary Robert), Bat Boy (Shelley) and Spring Awakening (Anna). She earned her BFA in Musical Theatre from Roosevelt University's Chicago College of Performing Arts.
Kholby Wardell makes his 5th Avenue Theatre and ACT Theatre debut as Noel Gruber. Wardell has played Noel in every production of Ride the Cyclone in Canada and the United States. His favorite theater credits include Algernon in The Importance of Being Earnest, Freddie in My Fair Lady, Seymour in Little Shop of Horrors (Blue Bridge Repertory Theatre); Lance in 500 Words (Green Thumb Theatre) and Bing Crosby, Socksboots and Self in The Lost Spirit of Christmas (Terrible Adults). Next up, Wardell can be seen playing Tobias in Sweeney Todd: The Demon Barber of Fleet Street with BBRT in Victoria.
About the Director
Rachel Rockwell is a Chicago-based director and choreographer making her Seattle debut. Some of her recent credits include: Shakespeare in Love at Asolo Repertory Theatre; Ride the Cyclone at MCC (Joe A. Calloway Award for Choreography, Lortel and Drama League nominated); October Sky at The Old Globe (Craig Noel Award for Best Musical); world premiere of Something Wicked This Way Comes at Delaware Theatre Company and World Premiere of Diary of a Wimpy Kid for The Children's Theatre Company of Minneapolis. Her other directing and choreographing credits include: Ride the Cyclone at Chicago Shakespeare Theatre (Jeff Award for Best Director); Brigadoon at Goodman Theatre (Jeff Award for Best Musical and Best Choreography); Billy Elliot (Jeff Award for Best Choreography); Ragtime at Drury Lane Theatre (Jeff Award for Best Musical and Best Director) and Enron at Timeline Theatre Company (Jeff Award nomination for Best Play).
About the Music Director
Doug Peck is a Los Angeles-based musical director, pianist, conductor, orchestrator, arranger, vocal teacher/coach and educator. He has appeared in concert with artists like Renee Fleming, Michelle Williams, Lupe Fiasco, Jessie Mueller, Shemekia Copeland, John Prine, Andre DeShields, Heather Headley, Sylvia McNair and George Hearn. Career highlights include conducting the original full orchestration of Carousel at the Glimmerglass Festival and creating new Indian-jazz fusion arrangements and orchestrations for the stage version of Disney's The Jungle Book, seen in Chicago and Boston. He has won six Joseph Jefferson Awards for his musical direction, as well as two After Dark Awards, the Guy Adkins Award and the Sarah Siddons Award. He also served as musical supervisor for the Off-Broadway production of Ride the Cyclone and is co-creator of The Goodman Theatre's unique free musical theater program for talented high school students who would not otherwise have access to conservatory training.
About the Creative Team
Ride the Cyclone features scenic design by Scott Davis, costume design by Theresa Ham, lighting design by Gregory Hofmann, sound design by Christopher Walker and projections design by Mike Tutaj.
Additional staff includes Ericka Mac (associate director and choreographer), Michael Matlock (associate music director), Brendan Boston (associate scenic designer), Nicholas Hartman (assistant costume designer) Lily McLeod (assistant lighting designer), Brendan Patrick Hogan (associate sound designer) Rachel Bury (production stage manager) and Rachael Dorman and Anne Hitt (assistant stage managers).
About the Writers
Brooke Maxwell (Music & Lyrics) is a freelance musician, composer and educator based in Victoria, BC, Canada. In addition to Ride the Cyclone, he has underscored and done sound design for several local and national works, including Gruff (Puente Theatre) And Slowly Beauty (Belfry Theatre, National Arts Centre, Tarragon Theatre); A Tender Thing (Belfry Theatre); The Glass Menagerie, Long Days' Journey into Night (Bluebridge Theatre); Joan (Theatre SKAM) and Busted Up (Open Pit Theatre). He would like to thank Jacob Richmond and Atomic Vaudeville for their inspiration, Kevin McCollum and Alchemation for their support, Jessica for her love and encouragement, and his parents for forcing him to stay in piano lessons.
Jacob Richmond (Book, Music & Lyrics) is an award-winning playwright whose works have been performed in theaters throughout North America and internationally. These works include The Qualities of Zero (Montreal Critics Circle Award, Best Text; Toronto Dora Mavor Moore nomination, Best Text); The Last Vaudeville; The Tragical Comedy of Punch & Judy and Legoland (New York Frigid Festival, Best Production, Summerworks Festival, Best Text, multiple fringe festivals across Canada, Best Text). He is also a recipient of CBC Radio One Award for best radio comedy for his radio play From Canada to Canada. Richmond is the Co-Founder and Co-Artistic director of Atomic Vaudeville (a cabaret-based theater company based in Victoria, BC), which has sought to create raw theatrical events that represent the modern era through how it's actually experienced: a barrage of styles, opinions, songs, genres and acts that create a central theme rather than a linear story. He is also a director and actor.
About The 5th Avenue Theatre
The 5th Avenue Theatre is one of America's leading musical theater companies. We enrich the community we love with the art form we love-giving the Pacific Northwest a front-row seat to original powerhouse productions that go on to light up marquees and audiences all the way to Broadway. From the page to the stage, we bring passion and epic scale to every musical we create. With big talent. Bigger-than-life productions. And did we mention dazzle? As a nonprofit theatre company and our region's largest performing arts employer, we spread the joy of great musicals with people of all ages across our region and state. Each year, we reach more than 75,000 young people through our nationally acclaimed education programs. Programs designed to develop new musicals ensure that the next generation of great musicals will be there to tell the stories that captivate tomorrow's audiences. On the national stage, we are a leading voice for the power of this American art form to lift the human spirit.
ABOUT ACT
Located in Seattle's Downtown Historic Theatre District, ACT is home to five performance spaces under one roof. Since 1965, ACT has been a destination for experiencing new voices, stories, and art. ACT is steadfast in its dedication to producing work with contemporary playwrights and local performing artists through its Mainstage Play series, ACTLab producing partnerships, and Young Playwrights Program. With more than 450 performances a year, ACT is a community hub where artists and the public connect about today's issues and ideas, and celebrate the shared experience.