Acclaimed Filmmaker Roya Sadat Directs World Premiere of A THOUSAND SPLENDID SUNS at Seattle Opera
Performances run February 25–March 11, 2023.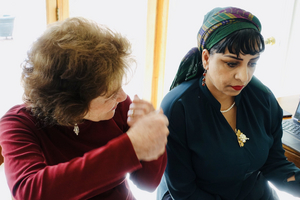 When acclaimed Afghan filmmaker Roya Sadat agreed to direct the operatic premiere of A Thousand Splendid Suns, the challenges encountered by the story's Mariam and Laila, two women brought together under brutal Taliban rule, were a reminder of a traumatic period in Afghanistan's history. Then, on August 15, 2021, during Sadat's first production meeting in Seattle, the Taliban retook her hometown of Kabul. The women of Afghanistan were once more thrown into the chaos and crises depicted in the novel by Khaled Hosseini that formed the basis of Stephen Kitsakos' libretto.
"Roya Sadat is a force," declared the opera's composer Sheila Silver. "She is an award-winning Afghan women's rights activist directing a Western opera about women's rights. And Seattle Opera is giving her all the support she needs to make the production a success. We have invited a highly distinguished artist to collaborate in this art form and I think the results will be totally original."
"I want to draw the audience into this world to ensure that this story lives on in people's hearts and minds," said Sadat. "Opera has given me the strength to be the voice for millions of women whose right to speak has been taken away. I want this opera to be a cry so loud that you'll never forget the women of Afghanistan and the Middle East."
As the women in today's Afghanistan are once more deprived of basic human rights by the Taliban, their strength and resilience has inspired the women-led creative team assembled by Seattle Opera. That team includes cultural consultant Humaira Ghilzai, who has collaborated with Silver and Kitsakos on Suns since 2016. In addition to working directly with the composer and librettist on the language and storytelling in the piece, Ghilzai has assisted in curating opportunities for audiences to learn about Afghan art and culture.

Seattle Opera has programmed a robust slate of community and education events to promote Afghanistan's rich cultural and artistic legacy. On February 11, Jashin: A Celebration of Afghan Arts will feature artwork rescued from Kabul by artist-activists ArtLords, a performance by Homayoun Sakhi on the rubab, one of Afghanistan's national instruments, and a screening of the documentary Symphony of Courage, about the Afghanistan National Institute of Music and Afghanistan's first all-female orchestra.

Roya Sadat's film A Letter to the President will be screened at the Seattle International Film Festival on February 12 and a collaboration with Lake City-based Refugee Artisan Initiative will commission nine Afghan women to design and create a custom embroidery project, to be displayed alongside an original ArtLords mural in McCaw Hall during the run of A Thousand Splendid Suns. In addition, Seattle Opera is collecting donations of food and supplies at each performance to support Afghan refugees in the Puget Sound region.

"Since taking power in August 2021, the Taliban have turned Afghanistan into a massive prison for women and girls," said Sadat. "Education, employment, free mobility, freedom of expression, and equal access to services have been restricted or fully banned. We cannot turn a blind eye. We must tell stories of suffering and sacrifice - but we must also tell stories of hope and humanity. A Thousand Splendid Suns does just that."