Directors And Cast Announced For Debut Plays At Edinburgh Fringe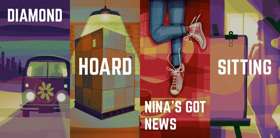 BBC Arts and Avalon announce today the casting and directors for DEBUT - a unique new initiative enabling four professional creatives - Bim Adewunmi, Katherine Parkinson, Beryl Richards and Frank Skinner - who have never written for the stage before to create their debut play. All four plays will be directed by emerging directors giving a new generation of talent an opportunity to direct a play at the Edinburgh Festival Fringe 2018.
Sarah Bedi (All Places that the Eye of Heaven Visits), Tinuke Craig (random/generations), Polina Kalinina (Gifted) and Jane Moriarty (Because) will direct the four plays and make their Edinburgh Theatre debuts. Casting includes James Alexandrou (EastEnders) in Sitting; Rob Auton (Rob Auton: The Talk Show also at Edinburgh Festival Fringe) and Breffni Holahan (Everything Not Saved also at Edinburgh Festival Fringe) in Nina's Got News; Stuart Milligan (Jonathan Creek) in Diamond and Faith Alabi (Belleville) in Hoard.
DIAMOND Diamond, by director Beryl Richards (six-time Bafta award-winning and two-time Emmy-nominated TV and film director known for projects including Joe All Alone, The Secret Life Of Boys, Uncle Dad, My Life As A Popat) will be directed by Jane Moriarty and follows successful surgeon Jordan, who embarks on a journey of discovery, revelation and redemption following his estranged mother's death. The cast are Nancy Baldwin (Night of the Iguana), Jenny Lee (Hollyoaks), Eoin Lynch (Ripper Street), Amy McAllister (Call The Midwife) and Stuart Milligan (Jonathan Creek).
HOARD Hoard by journalist Bim Adewunmi (senior culture editor for BuzzFeed News and columnist for the Guardian) will be directed by Tinuke Craig and tells the story of three sisters and their mother as they face up to old hurts and upspoken tensions. The cast are Faith Alabi (Belleville), Babirye Bukilwa (Filthy Business), Pepter Lukunse (Nell Gwynn), John Omole (Hollyoaks) and Lucy Vandi (School of Rock).
SITTING Sitting by actor Katherine Parkinson (The IT Crowd, Doc Martin, The Honourable Woman, Humans) will be directed by Sarah Bedi and tells the story of three people, years apart from each other, who are sitting for a painting in artist's studio. The cast are James Alexandrou (EastEnders) and Grace Hogg Robinson (The Durrells) and Hayley Jayne Standing (Downton Abbey).
1
NINA'S GOT NEWS Nina's Got News by writer and comedian Frank Skinner (Room 101, Portrait Artist Of The Year, Don't Start) will be directed by Polina Kalinina and is about Nina's truly incredible news, how her ex- boyfriend and her best friend react to it, and whether they can possibly believe her. The cast are Rob Auton (Rob Auton: The Talk Show), Jessica Clark (Call The Midwife) and Breffni Holahan (Everything Not Saved).
Jonty Claypole, the BBC's Director of Arts, said:
"We are delighted to be able to announce such an excellent range of directors and cast to join the writers working on these plays. Debut is all about mixing talents from the worlds of theatre and broadcast, and creating and developing new work that may have an afterlife across these areas."
Jon Thoday, Joint MD of Avalon, said:
"We are excited to be bringing to Edinburgh a group of writers who have never written a play for the stage before and pleased to be partnering with BBC arts in this venture which we hope will bring some new interesting new works to fringe audiences for years to come."
For 70 years, the Edinburgh Fringe has been the birthplace of critically-acclaimed breakout productions including Tom Stoppard's Rosencrantz and Guildenstern are Dead (1966) and Richard Thomas and Stewart Lee's Jerry Springer The Opera (2002), whilst writers such as Jez Butterworth (aged just 19) and Enda Walsh found early success with respective plays Cooking in a Bedsitter (1991) and Disco Pigs (1997) there too.
DEBUT embraces the Edinburgh Fringe as the platform it was designed for, as an environment for creative collaborations and new work to be seen and evolve, ready for whatever might happen beyond the Fringe.
More Hot Stories For You