Citizen Of Nowhere, A New Festival Of Theatre And Tech In Dundee Launches In November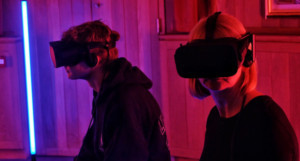 Citizen of Nowhere is a festival exploring how theatre colliding with new technologies and interactive installations can respond to an increasingly fragmented world.
"With new realities like Brexit, Trump, and the resurgence of populism and political strongmen, cultural values like unity, diversity, and empathy are under sustained attack. This erosion has gone hand in hand with a disruptive technological revolution which has caused seismic shifts throughout the world, the implications of which we are experiencing in real time today" William Galinksy - co-curator
Enquiring minds are invited to come on a journey into the future of theatre, technology and society for three days of installations, performances, discussion and debate. This new three-day festival gives audiences and participants in Dundee the opportunity to interact with internationally acclaimed digital art works.
From fake news and the wild west of the internet, to the threat of AI on the future of jobs and an increasingly digitised world, Citizen of Nowhere will provoke theatre-makers, creative technologists, researchers, writers and thinkers to use new technologies to fight back, bridge divides, reach new audiences and tell stories in new ways.
Artist and curator William Galinsky leads an enquiry into the future of how and why theatre is made and for whom. Can theatre use and influence technology to bring more of us together and strengthen civil society?
Taking place in Scotland's tech-hub Dundee, the National Theatre of Scotland presents Citizen of Nowhere as part of NEoN festival. NEoN (North East of North) aims to advance the understanding and accessibility of digital and technology-driven art forms and to encourage high quality within the production of this medium through exhibitions, workshops, talks, conferences, live performances and public discussions. It has also established itself as a platform to showcase national and international digital art forms.
Citizen of Nowhere will take place in venues across Dundee include; the new V&A Dundee, The Vision Building, Dundee Rep Theatre, and civic and outdoor public spaces
Alongside the public performances, the National Theatre of Scotland is hosting a Collider, led by Lizzie Hodgson of ThinkNation. Ten Scottish theatre-makers will collaborate with technologists to answer the question, can we influence the direction of this disruption and have a positive impact on our society? An intensive workshop will encourage artists to explore new ways of making theatre and reaching audiences.
William Galinsky is an artist and curator, who was previously the Artistic Director at Norfolk and Norwich Festival, the flagship performing arts festival for the east of England.
Citizen of Nowhere is supported by Creative Scotland.