BWW Review: FAT FRIENDS, King's Theatre, Glasgow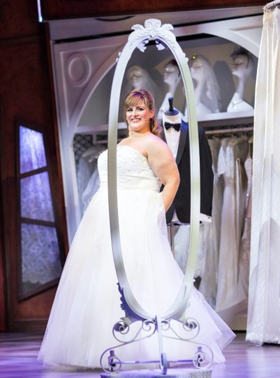 Based on the hit 2000 television series by Kay Mellor, Fat Friends is a brand-new musical exploring the fixation with weight loss.
Kelly has her heart set on her dream wedding dress but there's just one problem- it's two sizes too small. The owner of the dress shop just happens to run the town's Super Slimmers group and encourages Kelly to sign up in a bid to get her into that perfect dress.
Kelly catches the attention of Julia Fleshman (played by Natasha Hamilton) who founded Super Slimmers and fast becomes the face of the brand as her story goes viral. Can Kelly drop two dress sizes in just six weeks?
The songs in the show are pleasant but mostly forgettable. Although "Chocolate" certainly sticks in the mind as the male cast strip down and thrust phallic oversized Flakes around the stage! There isn't a weak link in the performance vocally as everybody is more than capable of holding their own with the musical numbers.
Fat Friends boasts a very impressive cast. In the lead as Kelly is the wonderful Jodie Prenger who does an excellent job of portraying Kelly's confidence and belting out huge numbers throughout.
For the Scottish dates the ever popular Elaine C Smith joins the cast as Kelly's mother Betty. Betty is viewed as an inspiration because she's managed to lose a significant amount of weight- all the while working in the family chip shop Big & Battered. Kevin Kennedy plays her husband Fergus and the pair make a fantastic double act with great comedic timing. Rachael Wooding is also excellent as Joanne, Kelly's "thin" sister. Wooding and Prenger work very well together and do a fantastic job portraying that sibling rivalry with a lot of love underneath.
Although Fat Friends is presented as a fun and frivolous musical- there is much more to it. Underneath the humour and jaunty songs there's a clear message here about being happy in your own skin and not necessarily paying too much attention to what the media tells you is beautiful.
Fat Friends is at the King's Theatre, Glasgow until Saturday 5th May.
Photo credit: Jay Brooks
Natalie has been an avid theatre goer since her first London production of Blood Brothers when she was 12. Based in Glasgow, she also reviews (read more about this author...)