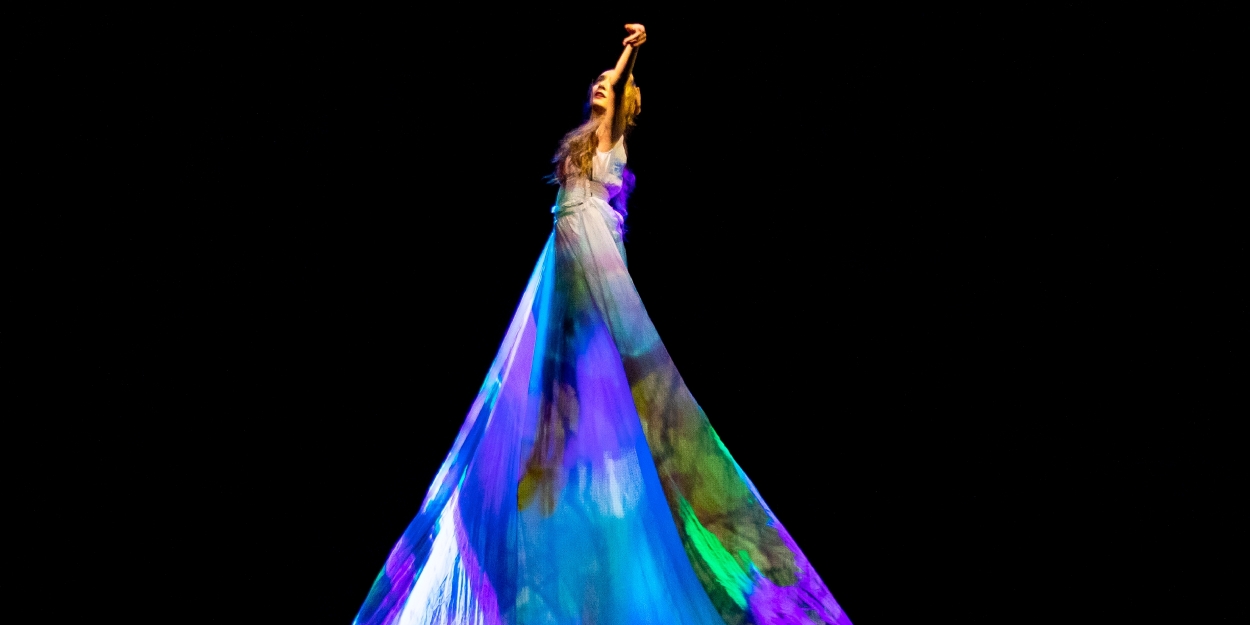 Review: MOMIX - ALICE at Van Wezel
Travel down the rabbit hole Momix-style.
Momix was founded 42 years ago by choreographer Moses Pendleton. He was born and raised on a dairy farm in Vermont, attended Dartmouth College, and co-founded the American modern dance company Pilobolus, which won acclaim for its intermixture of acrobatic feats and body sculptures. Pendleton performed a solo dance called Momix with Pilobolus at the 1980 Winter Olympics. Soon after, Momix became the name of the dance company he founded with Alison Becker Chase. Over the past 40 years, Momix's repertoire has included works such as Passion, featuring a score by Pete Gabriel, In Orbit, Baseball, Opus Cactus, Lunar Sea; and titular productions of Momix: Remix, Botanical Alchemy, and the company's newest creation, Alice. Pendleton is known for incorporating the inspiration for his productions from nature, animals, and plants. He choreographs dance sculptures that combine illusions with mime, acrobatics, and gymnastics, creatively utilizing props, music, and film. He defines his work as "we're less of a dance company than a physical, visual theater, using props and costumes to create fascinating pictures."
For his latest piece Momix-Alice, Pendleton draws inspiration from Lewis Carroll's Alice in Wonderland story. This production takes the audience down the rabbit hole of 22 individual vignettes, (13 in the first act, 9 in the second act), full of quick-change props and colorful costume changes, further enhanced by visuals of illusions and a cleverly befitting soundtrack. This is not a linear story that you can easily follow offering a beginning, middle, and end that through its continuity tells a story. Actually, aside from several Alice cast members whose appearances in various scenes are threaded throughout the production there really isn't a lot of cohesiveness unifying one vignette to another. It can be confusing, hard to follow, and perplexingly cryptic. So, this may not be the rabbit hole for those looking for an orderly storyline. But, if you can let go and enjoy the wonder of the production, the sheer artistry of the twisted imagination of its creator, and the incredible physicality and dance acumen of this fine cast, you are in for an unusual treat. Snuggle up to that giant caterpillar, grab that hookah, and let the madness begin!
The audience joins various Alices through a projection of colorful psychedelic imageries highlighted by sometimes pleasant and sometimes nightmarish lighting and a stirring soundtrack. Some of the distortions can disorient the viewer. As in Alice in Wonderland, Momix-Alice introduces us to the characters you would expect to meet in Wonderland. In this staging the rabbits were odd, the mad-hatters were funny, the big-headed babies were downright creepy, and the Queens from the deck of cards were the most interesting, sporting versatile costuming. This production incorporates curious props such as big bouncing balls and tall mirrors manipulated by the dancers that provide a clever kaleidoscope effect.
On the corner of Cirque du Soleil and Alice in Wonderland, Momix-Alice features the physicality of the performers whose strength and flexibility are every bit as dazzling as the production itself. Kudos to Artistic Director Moses Pendleton, Associate Director Cynthia Quinn, and dance-illusionists Jade Primicias, Heather Conn, Nathan Davis, Derek Elliott JR, Aurelie Garcia, Seah Hagen, Elise Pacicco, Sean Langford, and Adam Ross for making mayhem artistic and entertaining. I can't imagine what daily discipline routines you adhere to that prepare you to pull off something like this nightly!
I don't want to give out too much more - I'd like theatergoers to see this peculiar rendering for themselves. But I do want to comment that the show rises to its heights - literally with the last vignette "Go Ask Alice" as the unmistakable Grace Slick soundtrack Go Ask Alice wafts through the rafters enticing Alice and her psychedelic dress to rise and expand while the audience members gasp in awe.
Interesting Fact: Rumors that Lewis Carroll was on some form of psychedelics when he wrote Alice have been dispelled. He was only known to have an occasional sherry or two.
To learn more about Momix productions visit www.momix.com.
For more information on upcoming productions at the Van Wezel visit www.vanwezel.org.