Faculty Dance Concert ORIGIN/EVOLUTION Announced At UCSB Theater Dance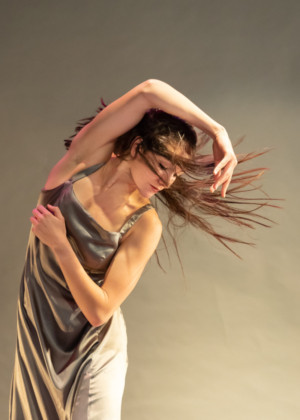 UCSB's Department of Theater and Dance presents our 2018 Fall Dance Concert, ORIGIN/EVOLUTION. The evening will present six pieces in total, Poetry of a Mute Soul, Coloratisse, Anemone, The Unsung, Re-lll, and Memory of Hope including choreography from José Limón, Shen Wei, Valerie Huston, Monique Meunier, Kelly O'Connor, Christopher Pilafian, and performances from Principle Dancers of the New York City Ballet, Maria Kowroski and Tyler Angle. Foregrounding faculty research, this evening of dance offers premieres of new works and reconstructions by new and established faculty members, a cherished member of the emeritus dance faculty, and a senior BFA capstone project. The very makeup of the concert's contributors, the range of works being presented, and the varied positions of its creative artist call up notions of artistic lineage and histories. Drawing forth from unique origins - how we came to dance - each of us evolves and grows, standing on the shoulder of those who came before. Our storied faculty members provide a bridge between the originators and the next generation of student-dancer artists.
Poetry of a Mute Soul, a BFA capstone by the youngest contributor, Kelly O'Conner, delves into an embodied exploration of the interplay between human life and the natural world. Under the creative advisement of Christina McCarthy, O'Conner explores humanity's connection to nature, questions humanities self-destructive tendencies, and analyzes how blind-spots in humanity's collective conscience contribute to the the rising crisis of global climate change.
Valarie Huston's Coloratisse is a creative badinage; a witty conversation about art and life, the interplay of visual arts, media technology with dance performance, and the marriage of music and dance. Drawing inspiration from the Coloratura songstress and the canonical visual art contributions of Henri Matisse, this multi-media work is rooted in minimalist elegance could with artful design and compositional nuance, with performance by one of UCSB's rising stars and set to the evocative score Zinc by Zoe Keating.
Anemone, performing only on Friday December 7th, is perhaps the purest example within the concert of dance's reliance on lineage. It features choreography from Christopher Pilafian (Artistic Director of Santa Barbara Dance Theater) that is reconstructed by Nancy Colahan and performed by UCSB Dance Alumna and SBDT Company member Lauren Serrano. The piece takes inspiration from the eponymous floral muse known as the "wind flower", and was originally choreographed in 1998 with Nancy Colahan as the original soloist. Anemone boasts three generations of dance-artists in the realization and restaging of this elegant and luscious expression of the clarity and virtuosity possible in dance.
The UCSB Dance Company (under the direction of Delila Moseley) will return to the Hatlen Stage in the excerpts of The Unsung, choreographed by the incomparable José Limón, with reconstruction by Professor Emerita Alice Condodina, a former Limón Company Principal. Condodina was nominated by the department for and received the 2018-19 Edward Dickinson Emeriti Professorship Award, a highly competitive honor given to emeritus faculty members at the University of California. Because of this award, Condodina has been able to work on this performance as well as many other projects in the future, including restaging another José Limón piece. Limón (1908-1972) was a crucial figure in the development of modern dance, shifting perceptions of the male dance, with his choreography bringing a dramatic vision of dance to audience around the world. Created in 1971, The Unsung, is a powerful all-male evocation of the lives and dancing of Native American tribes who lived in harmony with their vast landscape, with the dancers also serving as musicians, using their bodies and the ground to emphasize our connection to the earth.
Assistant Professor Brandon Whited will restage one of Shen Wei's iconic works, Re-lll (2009). Professor Whited, a former member of the internationally renowned company Shen Wei Dance Arts, originated a feature role in the premier of this work. Shen Wei is internationally celebrated for the breadth and scope of his artistic vision. He developed Re-lll following his return to Beijing after year of living in New York City, and the piece represents his impression on New China and the Silk Road. Set to an original score by David Lang with violin solo by Todd Reynolds, Re-lll is an abstract resonance on the dichotomous divide between eastern collectivism and western individualism. A highly physical work, it calls for the dancers' flux between extreme synchronicity and virtuosic solo improvisation.
Memory of Hope will mark the first collaborative effort between UCSB dance majors. Principal Dancers Maria Kowroski and Tyler Angle of the New York City Ballet, and international choreographer/UCSB Assistant Professor Monique Meunier at the choreographic helm. Set to a post-minimalist contemporary classical score, Memory of Hope travels inside the consciousness of an individual battling anxiety and depression while recalling rage, love, fear, and ultimate despair. This creation is dedicated to former New York City Ballet Principal Dancer Peter Frame who recently took his life.
ORIGIN/EVOLUTION stands as the first UCSB dance concert in almost fifteen years to primarily feature works by faculty; it is not to be missed! Drawing upon dance's unique reliance on direct kinetic transfer of information and oral tradition, this year's Fall Dance Concert showcases a spectrum of dance works that trace individual, shared, and intertwining lineages back to their origins in the foundations of ballet, and modern and contemporary dance.
ABOUT: The Department of Theater and Dance fosters a vibrant and stimulating environment that encourages creative self-expression and critical thinking. Undergraduate programs include intensive, conservatory-style training for actors and dancers, as well as general degrees with a focus on Dance, Design, Directing, Playwriting, Theater and Community and Theater and Performance Studies. The department's nationally recognized and highly ranked graduate program offers a diverse array of interdisciplinary approaches to performance research within a global orientation. The department provides a lively forum for faculty to integrate teaching and research, at the cutting edge of their areas of expertise.
ORIGIN/EVOLUTION
Performances are in UCSB's Hatlen Theater on Thursday Dec. 6th, Friday Dec.7th, and Saturday Dec. 8th at 8 PM, with a matinee on Saturday Dec. 8th at 2 PM.
The New York City Ballet Principal Dancers Maria Kowroski and Tyler Angle will perform on Dec. 7th and 8th at 8 pm only.
Following the matinee on Dec. 8th, there will be a special talkback/Q&A with the artists.
Tickets: $12-20
Tickets and more info at theaterdance.ucsb.edu

Related Articles View More Santa Barbara

Stories

Shows
More Hot Stories For You