Review: EUGENE ONEGIN at the Lobero Theatre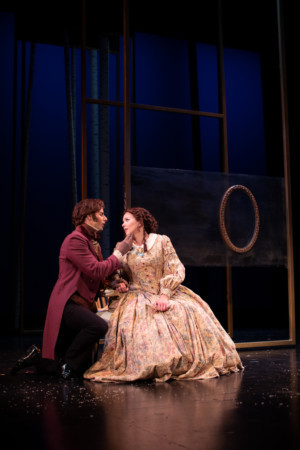 On March 1, 2019, Opera Santa Barbara presented it's first Russian opera, Pyotr Ilyich Tchaikovsky's EUGENE ONEGIN. The opera was premiered in Moscow in 1879 but was not played in the United States until 1920 when the Metropolitan Opera performed it in Italian.
At Opera Santa Barbara, Stage Director Jonathan Fox captured much of the power of this idiomatic Russian tale based on Alexander Pushkin's verse novel. The opera tells how a young girl's emotional revelation and a young man's fit of jealousy cause changes that would never be undone.
Fox concentrated on imaginative storytelling and presented his characters as real people who would be dealing with the results of their decisions, both intended and unintended, for years to come. His crowd scenes provided extra eye candy as elaborately costumed members of the chorus and fleet-footed dancers whirled around the stage in intricate patterns created by choreographer Christopher Pilafian.
The opening scene took place outside of Tatiana's country home. While her mother and nurse sang of replacing happiness with mere habit, her flirtatious sister, Olga, skipped and danced. Olga was in love with their neighbor, Lenski, a dreamer and a poet. Her tempo was fast and his was slow. They were wrong for each other, but no one seemed to realize it. Tatiana was reading a novel and dreaming of a handsome, romantic beau. When she saw the debonair Onegin, she fell in love.
Steven C. Kemp designed a unit set that could be made to be indoors or out of doors with a few changes, such as the inclusion of a window or a huge moon and some suggestive lighting. Particularly striking was the opening scene in which the singing farm workers formed a procession across the back of the stage among the birch tree trunks. Accurate historical costuming helped put the characters in their correct times and places. Performed in the historic 600-place Lobero Theatre, every seat was close enough to allow its occupant an excellent view of the stage.
on this occasion, Valéry Ryvkin, Opera Santa Barbara's artistic director and principal conductor from 1999 to 2008, led this production, Kostis Protopapas, the current artistic director and principal conductor, acted as chorus master. Choral singing is the backbone of many Russian operas and in this case folk-like melodies and sweet sounding harmonies gave Opera Santa Barbara patrons quite a few tunes to hum on the way home.
Baritone Lee Poulis was a suave and polished Onegin with the right timbre and personality for this romantic role. As Tatiana, soprano Karin Wolverton sang with a lustrous, meaty voice. Her dynamics were wide ranging and her phrasing had a pleasant linear flow. Although her Act I Letter Scene was intense and boiled with frenetic emotion, at the opera's finale, she was cool and in total command of herself when she told Onegin she was not going to leave her husband.
Lensky is a role with a major lyric aria and Elliot Deasy's honeyed tenor rendered the poignant phrases of "Kuda, kuda" with great tonal beauty. In return, the audience greeted him with a notable ovation. Danielle Corella was an efficient Madame Larina while Nandani Maria Sinha created an unforgettable character as the Nurse, Filipievna. Ashley Kay Armstrong was a bouncy and effulgent teenage Olga.
Although he was said to be ill, Benjamin Brecher offered a welcome and smooth change of pace singing in French as Monsieur Triquet. Bass Kevin Langan portrayed Prince Gremin with the air of a man who has experienced all the world has to offer. His deep low notes resounded mellifluously throughout the house. Studio Artist Yazid Gray sang two small roles, Zaretsky and the Captain, and his presence was notable in both parts.
Conductor Valery gave us a taste of the wonderful art that originated in the land of his birth. Under his leadership, the Opera Santa Barbara Orchestra delivered an involving rendition of Tchaikovsky's masterful score that included many instrumental highlights such as the woodwind solos that enlivened Tatiana's Letter Scene. Opera Santa Barbara has always been a special place and the Tchaikovsky opera was just one more delight in its twenty-fifth season.