BWW Previews: THE SCHOOL FOR LIES at Ensemble Theatre Company
Ensemble Theatre Company Celebrates a 40-year Milestone, Kicks off Season with David Ives' The School for Lies
From humble beginnings to a beautiful home in the New Vic Theater, Ensemble Theatre Company has been a staple of the Santa Barbara performing arts for four decades. This year marks Ensemble's 40th anniversary, and the company is celebrating with a season of new and classic works, from Arthur Miller's American tragedy, Death of a Salesman to Matthew Lopez's drag queen odyssey, The Legend of Georgia McBride. The season kicks off this Saturday (October 6th) with a repurposed comedic essential, The School for Lies. "I wanted to open with something fun and smart," said director (and Ensemble Artistic Director) Jonathan Fox. "David Ives has written what he calls a 'transl-apdation,' which is translation/adaptation, of Molière's The Misanthrope...Ives takes a much more free-wheeling approach; it's really quite energetic. Even though it's in-period, it has a contemporary feel in terms of the language. And he takes a potshot or two against our current administration." The play follows the romance of Celimene, an acerbic widow who lives off her various dimwitted suitors, and Frank, an English traveler with a caustic attitude. The Misanthrope satirizes the excesses and grandeur of 17th-century French aristocracy, but while Molière was writing about French society, Fox says, David Ives is writing about contemporary American society, in the guise of a 17th-century French play.
From a French salon to a drag bar in Florida, Ensemble is running a competitive wig game this season. The Legend of Georgia McBride, a new (and extremely popular) play by Matthew Lopez, follows an Elvis impersonator who learns to make it as a drag queen when he loses his job as the bar's headliner. Says Fox: "It's about this straight boy who gets pushed into service as a drag queen, and becomes a star. It calls into question his internal homophobia--he's starting to meet and work with gay people, but he's embarrassed about what he's doing and the fact that he's good at it. It's funny and uplifting, and a smart comedy."
Ensemble's 40th-anniversary season also brings back one of the company's originators, founding Artistic Director, Joseph Hanreddy, to direct Arthur Miller's Death of a Salesman. Hanreddy started Ensemble in 1979 and worked with the company during its formative years before becoming the Artistic Director of first Madison Rep, then Milwaukee Rep. "I thought it would be great to bring him back for the 40th season to do this landmark show," says Fox. "ETC did do it once 20 years ago, but we're looking at it fresh; we're approaching it with live musicians as part of the cast." Death of a Salesman hits the boards in February 2019.
Spring brings a Southern California premier to the New Vic in Everything is Illuminated. Adapted by Simon Block from the novel by Jonathan Safran Foer, the play tells the story of a young Jewish-American writer who travels to the Ukraine to track down the woman who helped his grandfather escape from the Nazis. "This was Foer's break-out novel when he was very young, and I fell in love with the story," says Fox, who will direct. "I was skeptical when I saw that there was a stage adaptation...but I was very taken with it. It's funny, yet haunting. This young, Jewish writer hires a Ukrainian tour guide to take him to this Little Village where his grandfather had been saved from the Nazis, to try to find his roots. Along the way it becomes this hilarious and haunting road trip." Fox says the play offers audiences comedy and pathos, and delivers the quirky humor and complex nuance of the novel.
Ensemble's season wraps up with Dancing lessons, a new play by Mark St. Germain. Fox describes this piece as a charming, touching story about two lonely souls in New York, a young man lacking certain social skills and a Broadway dancer who has been sidelined by injury. They come together when the young man needs dancing lessons for an event he's attending. "It's about the thorny relationship between the two and how they each trigger the others' antisocial outlook," says Fox. "For all these plays, we're delving into the questions of people in society, in a sense. Starting out with The School For Lies with this guy (Frank) who's extremely antisocial, and ending with these two people (in Dancing Lessons) who have closed themselves off from society. We are also looking at relationships that get formed inadvertently, like in Georgia McBride, with a straight boy in the midst of gay men; and the connection between the two young men in Everything is Illuminated as they discover their true history during their journey together."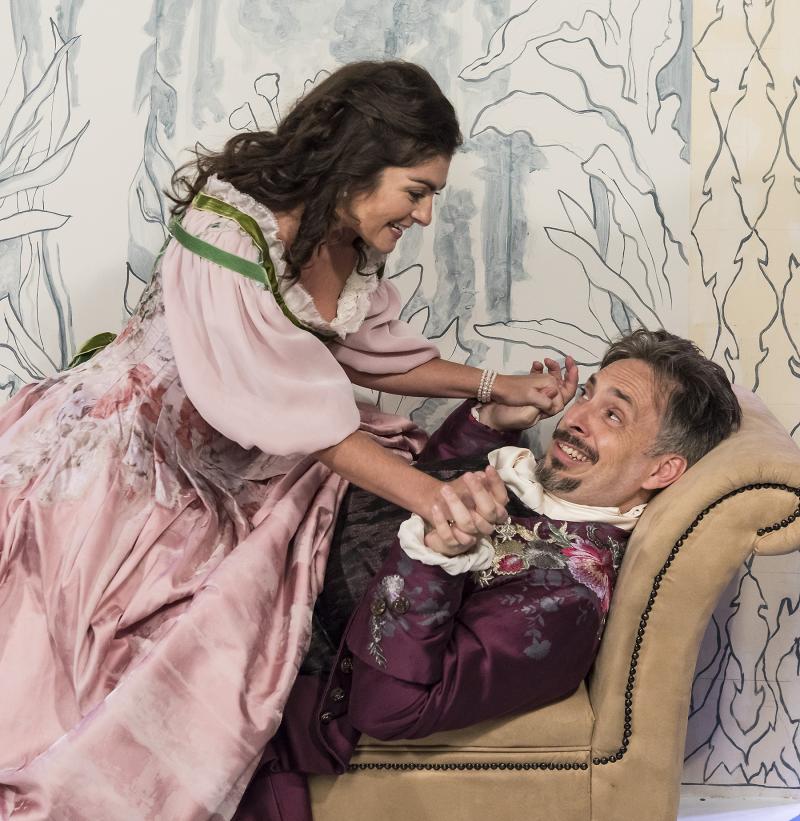 The School For Lies opens this Saturday at Ensemble. Visit their website for tickets and more information on the upcoming 40th-Anniversary season.
The School for Lies
by David Ives
Directed by Jonathan Fox
October 4-21
The New Vic Theater