BWW Feature: THE 9 SHOWS TO WATCH FOR IN 2019—SANTA BARBARA REGION
2019 is looking to be a season of exciting, provocative performance art that features a variety of voices. Here are my top picks for the nine shows of 2019 that shouldn't be missed (in order by date).
1) The Watson's Go To Birmingham - 1963
Produced by Launch Pad
Launch Pad is a program within the UCSB Theater and Dance department that gives new plays an on-their-feet workshop with a full cast and set. The plays are being immediately developed--so you know they're fresh. This February, Launch Pad presents The Watson's Go To Birmingham - 1963, adapted by Cheryl L. West from the book of the same name by Christopher Paul Curtis.
The Watsons, an African-American family of five, live in Flint, Michigan. Their oldest son, 13-years-old Byron, has been acting out, resulting in the decision to send him to live with him grandmother for the summer. The family takes a road trip to deliver Byron to his grandmother in Birmingham, Alabama--a city teeming with the racial tension of the civil rights movement. During their trip, the Watsons experience the most fearsome aspects of the culture war firsthand.
This production is a co-commission with Seattle Children's Theatre and Chicago Children's Theater, so bring the kids in your life to experience theatre that is sophisticated enough for adults, and appropriately challenging for children 9 years old and older.
FEBRUARY 14-16, 19-23
http://www.theaterdance.ucsb.edu/news/event/681
2) The Magic Flute
Produced by the Westmont Theatre and Music Departments
Die Zauberflöte! For the last few years, Westmont College's John Blondell has been staging operatic works in combination with the Westmont music department. Mozart's The Magic Flute is a fairy tale that begins with a lost prince agreeing to rescue the Queen of the Night's daughter, who's been abducted by the evil Sarastro. The narrative is epic and over the top, the music is beautifully engaging, and price is right, making Blondell's productions the most accessible opera in town. Whether you're an opera enthusiast or a newcomer looking to dip your toe into this extravagant theatrical form, The Magic Flute promises to be one of the most unique productions of the year.
MARCH 1, 3, and 5
https://www.westmont.edu/boxoffice
3)The Laramie Project
Produced by the UCSB Department of Theatre
In 1998, when gay college student Matthew Shepard was savagely beaten and left to die in Laramie, Wyoming, it became grossly apparent that the United States needed to take a hard look at the poisonous anti-LGTBQIA+ sentiment in the population--and institute hate-crime legislation. From the horror of this disgusting murder came a theatre project compiling hundreds of interviews, journal entries, and news reports from the people of Laramie that offer a microcosmic view of American culture. The piece encompasses the intensity of intolerance and the beauty of compassion. Directed by Eric Jorgensen and produced by the UCSB Theatre department, The Laramie Project confronts socially perpetuated hate and offers healing and hope through empathy and understanding.
MARCH 1-2, 6-9
https://secure.lsit.ucsb.edu/dram/d7/news/event/683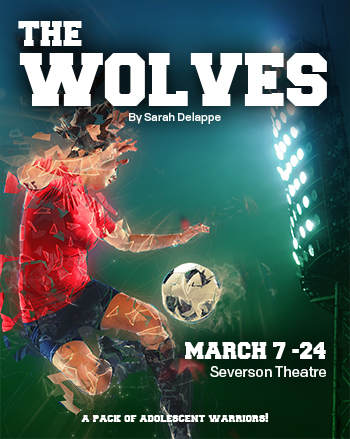 4)The Wolves
Produced by PCPA
The Wolves is a female-forward play written by a woman, featuring an all-female cast... and they're not solely talking about men! I needed a breath of fresh air and PCPA turned on a wind machine.
Oh, and it won the 2017 Obie Award and was a Pulitzer finalist? Yes, please.
This play follows a soccer team of teenage girls, The Wolves, through their season, as conveyed through chatter during their pre-game stretching routine. Sarah DeLappe's play pairs the challenges of adolescence in the current age against the security of an indoor soccer field in the burbs. Overlapping conversations and constantly evolving relationships make for a play that is acclaimed for its sharp writing and keen sense of both individual characters and group mentality.
MARCH 7-24 (Severson Theatre)
https://www.pcpa.org/TheWolves.html

5) Fun Home
Produced by Out of the Box Theatre Company
In 2015, Fun Home made a big buzz on Broadway, and took home the Tony Award for Best Musical. Based on the popular graphic memoir by Alison Bechdel, Fun Home is smart, poignant, modern, and emotionally harrowing, and the music is gracefully nontraditional. The "fun home" the title refers to is the funeral home the Bechdel family runs during Alison's childhood. The story jumps between three eras in Alison's life: her childhood in the 70s, her first semester away at college, and her confusion as an adult as she struggles with the long-ago suicide of her father, which coincided (roughly) with her coming out as a lesbian. By piecing together childhood and young adulthood, Fun Home shares the honest and startling experience of being molded by a haunting past. It's twisted and raw, and I missed it on Broadway, so I'll be there. Twice.
April 5-14
http://www.outoftheboxtheatre.org

6) Everything is Illuminated
Produced by Ensemble Theater Company
Ensemble Theater Company's production of Everything is Illuminated, adapted from Jonathan Safran Foer's novel, will be directed by Artistic Director, Jonathan Fox. Fox is, first, an appreciator of the novel. While he didn't think the adaptation for the big screen did the novel justice, he connected deeply with this theatrical adaptation by Simon Block--which makes the material feel very personal to the character of the theatre company. The story is promising: the book's author, Jonathan, tours the Ukraine with an entertaining but incompetent travel guide to find the woman who helped his grandfather evade Nazi capture. Reviews of other productions offer both praise and critique, but at it's best, Everything Is Illuminated is described as an engaging story with a unique voice that balances humor and pathos.
April 11-28
https://ensembletheatre.com/boxoffice/nowplaying-season-18-19/everything_is_illuminated
7) A Gentleman's Guide to Love and Murder
Produced by PCPA
A Gentleman's Guide to Love and Murder is yet another musical that I missed on Broadway. It took the Tony for Best Musical (amongst others) in 2014. The story follows Monty Navarro, who's a low-in-the-ranks inheritor of the D'Ysquith earldom. As the title suggests, Monty resorts to murder and marriage to move his way up the nobility ladder to become the next Lord D'Ysquith. This over-the-top comedy is produced by PCPA, who has the availability to put a big-budget musical up on it's feet. This show will run in Santa Maria and in Solvang, and is sure to be a crowd-pleaser both in the theater and under the stars.
April 25-May 12 (Marian Theatre)
June 13-30 (Solvang Festival Theater)
https://www.pcpa.org/GentlemansGuide.html
8) Out of the Box Theater Company: Season 10
Being an independent theatre company in Santa Barbara is a tough business, so a ten-year anniversary is a big deal. Out of the Box Theatre Company's first season brought Santa Barbara Hair and Reefer Madness, which set the tone for nine seasons of off-beat contemporary musicals that bring the campy, poignant, and fearless new works of Broadway and off Broadway to the local stage. The 10th-anniversary season's musicals have yet to be announced, but there's no doubt the company will go all out to celebrate a decade of literal blood, sweat, and tears (and god knows what else) on the floor of Center Stage Theater.
Dates and Shows TBD
http://www.outoftheboxtheatre.org
9) Christmas Carolyn
Produced by Theatrix
Currently in development by the Theatrix Podcast, Christmas Carolyn is a hilarious spoof on Dickens' classic holiday work. Theatrix is planning a retro-style radio broadcast of this new musical. Whether you attend the reading or listen the performance online, get ready for a barrage of theatre-based humor amidst jaunty original music as Carolyn DuMont, the star of long-running song-and-dance spectacular "Sassy Lassy" (and terrible human being) is visited throughout Christmas Eve by three spirits who attempt to change her selfish ways before she ends up in Diva Hell. Because who doesn't like a festive musical? Don't miss this soon-to-be holiday classic!
Dates TBD
http://theatrixsb.com