Kitka Tours 'Wintersongs' Around Bay Area this December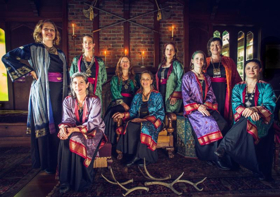 Powerhouse women's vocal ensemble, Kitka, has announced details for its annual Wintersongs tour and its new holiday music CD release titled Evening Star. Performing exquisite and unusual seasonal music from a wide variety of Eastern European ethnic and spiritual traditions, Kitka will present six concerts in Northern California, December 7 - 21, and on December 17, the ensemble will lead its seventh annual Wintersongs Community Sing, a sing-along event.

This year's tour kicks off at Holy Cross Church in Santa Cruz, December 7 at 8 p.m., followed by stops at the Kanbar Center for the Arts in San Rafael, December 9 at 8 p.m.; Arts at St. Bede's in Menlo Park, December 10 at 4 p.m.; St. Paul's Episcopal Church in Oakland, December 15 at 8 p.m.; Old First Concerts at Old First Presbyterian Church in San Francisco, December 16 at 8 p.m.; and Filoli in Woodside, December 21 at 5 p.m. Advance tickets range between $10 and $55, and may be purchased online via links at Kitka.org/events.

Kitka's Wintersongs Community Sing returns to historic Nile Hall in Oakland's Preservation Park on December 17 at 5 p.m. As always, Kitka's Wintersongs Community Sing is free with a voluntary donation.

Several years in the making, Kitka's newest studio album, Evening Star, is a sequel to the ensemble's acclaimed 2005 Wintersongs CD, "a refreshing spin on traditional seasonal choral music... thoroughly marvelous!" (NPR). The title track, a Bulgarian folk tune arranged in dramatic, six-part harmony, depicts the Evening Star at its zenith in the winter sky, illuminating the land near and far.

In celebration of their new CD, Kitka dedicates this year's Wintersongs program to "the mystery and wonder of long winter nights," explained Kitka's Executive Artistic Director Shira Cion. "The lyrics of many of the songs on our new Evening Star album are poetically rich with celestial imagery of the moon and stars, as well as such wintry elements as frost, snow and storms."

"In Slavic mythology," continued Cion, "the Evening Star was a female deity associated with the planets Venus and Mercury. By some accounts she was a virgin goddess, and according to others she was the wife of the Moon god and mother of all the stars. Christian lore incorporated the Evening Star into the nativity story as the Star of Bethlehem."

"Songs heralding the wonder of celestial bodies remind us that we are but a small part of the universe," said Kelly Atkins, who together with Caitlin Tabancay Austin directs this year's Wintersongs program. "In this time of uncertainty and disequilibrium, we can find solace and comfort in the simple joy of raising our voices together in harmony."
After November 15, Evening Star can be previewed and purchased for $15 plus shipping and handling online at kitka.org/shop/.

Kitka's 2017 Wintersongs ensemble includes Kelly Atkins, Caitlin Tabancay Austin, Kristine Barrett, Shira Cion, Erin Lashnits Herman, Janet Kutulas, Hannah Levy, and Lily Storm.

For more information about Kitka and all its programs visit kitka.org.
Wintersongs events in Oakland are supported, in part, by the City of Oakland Cultural Funding Program.
Photo by Vincent Louis Carrella
More Hot Stories For You