BWW Review: THE SANTALAND DIARIES Lose Something in Translation at TheatreWorks Silicon Valley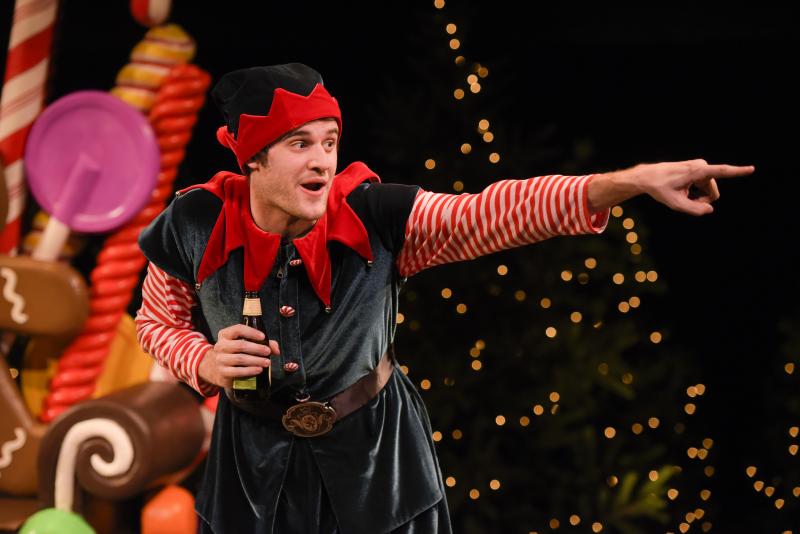 The intersection of the king of acerbically comic, nerdy insecurity and the mass culture oppression to "celebrate the season" should prove a balm to those with a bit of humbug in their hearts, right? Yeah, a dominant culture holiday take-down. Bring it!
Alas, The Santaland Diaries by David Sedaris proved a tepid brew for this Grinch-at-heart and his faithful sidekick - who is as rabid a fan of Sedaris prose as a social introvert can be. It was surprising given that the work is presented regularly far and wide every holiday season since it bowed in 1996, courtesy of a stage adaptation by Joe Mantello of the original NPR essay reading by Sedaris. This one is, case in point, a revival for TheatreWorks Silicon Valley, who produced a successful 2017 engagement.
Max Tachis, a popular performer around the Bay Area, returns as David, more often referred to by his elf name, Crumpet. Tachis is bouncy and sassy, with puppy-dog charm, a ready supply of snark, and a limber physical comedy style. He owns the stage, a superbly kitschy throne of candy canes, gum drops, and gingerbread by Christopher Fitzer, and the humiliation of his elf uniform reveal - perfectly awful (good) design by Jill C. Bowers - evokes commiserating sympathy and laughter. Directed again by Jeffrey Lo, Tachis keeps the segmented content moving briskly and gamely engages with the audience for their peril and his own amusement.
It's a solid, engaging performance that deserves far more ho-ho than ho-hum. The problem is that the source material does not stand up well to being "opened up," the same way some intimate single-set plays suffer from a sense of dilution when adapted to the screen with scenes and locations added just because the filmmaker can. In this case, having a very animated three-dimensional actor "perform" the story rather than a reader's imagination or the deadpan neurotic whine of the Sedaris reading amplifies the shortcomings in the adaptation.
Similarly, the humor in many Sedaris pieces comes from the obvious anguish of social misfits forced to contort themselves into a publicly presentable form, or, conversely, the observer's schadenfreude in having the misfit revealed for their true, damaged self. Neither of those elements is really present in Santaland, where the stage David-Crumpet presents as a fairly well-adjusted fellow forced to take on a seemingly demeaning survival job. Some works that are successful in one medium do not necessarily merit transfer to another. This feels like one. On stage, the story laboriously tries to demonstrate the absurdity of that reality, whereas the source material achieved surrealistic verisimilitude without trying.
The major through-line of the choppy script is David's trans-mortification into Crumpet, the indignities he suffers, and the follies he witnesses. It also takes aim at the various foibles of the retail holiday season from colorblind Santa casting, to horny elves, fake winter wonderlands, demented parents, and confused children. There's a sideways glance at the overly earnest investment corporations, and sometimes the people who play them, put into their fictional character casting of a Macy's elf or mickeyed mouse, not to mention the fractured reasons people would pursue these jobs. It also meanders more than once into David's obsession with soap operas, a genuine Sedaris trait, that feels like filler in what is only a seventy-minute performance.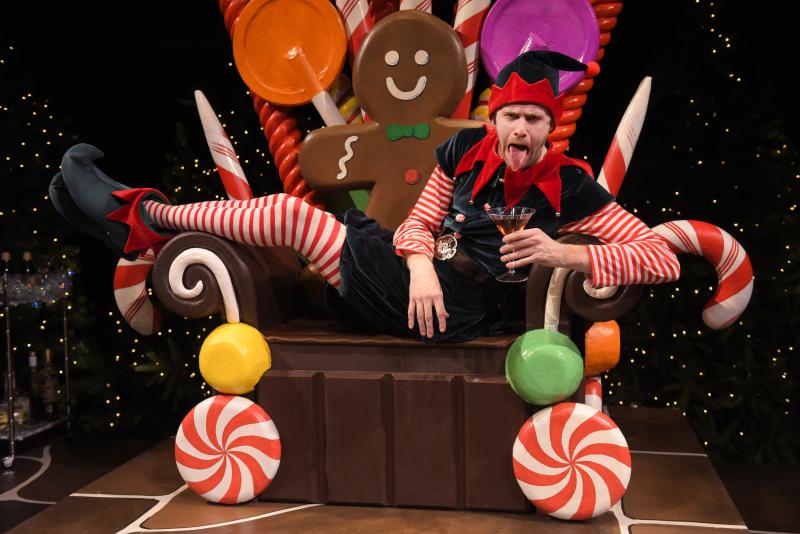 The Santaland Diaries runs through December 23, 2018
TheatreWorks Silicon Valley at the Lohman Theatre, 12345 El Monte Rd, Los Altos Hills
Tickets: theatreworks.org or 650.463.1960
Photos: Kevin Berne
Related Articles View More San Francisco

Stories

Shows
Robert Sokol is the editor-publisher of BAYSTAGES, the creative director at VIA MEDIA, serves on the executive committee of the American Theatre Critics Association (ATCA), (read more...)