BWW Review: THE BRIDGES OF MADISON COUNTY Will Leave You Smiling and Sobbing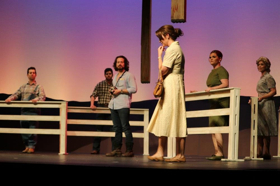 As The Public Theater of San Antonio opened its latest play, THE BRIDGES OF MADISON COUNTY, audiences knew it was going to be a hit. The anticipation was great as many knew that J. Scott Lapp would direct this wonderful show based on the novel by Robert James Waller with the book by Marsha Norman and music and lyrics by Jason Robert Brown.
When the first scene opened up, what was most apparent was the attention to detail that adorned the stage as part of the scenery. At the same time, there was something so simplistic about the scenery as to draw you in to the small Iowa town feeling. Transitioning from one scene to another involved the entire cast as if a metaphor for small town Iowa and everyone helping everyone.
This particular production of THE BRIDGES OF MADISON COUNTY was so professionally done one would have thought they were sitting in a theater in New York City. The polish and poise of each actor was very evident from start to finish. Mary Morrow plays the part of Francesca who is the housewife living in Winterset, Iowa far from her birthplace of Naples, Italy. Just existing in Winterset is what Francesca is doing as she cares for her husband, two children and their home. When her family takes a trip to Indiana and leaves her home alone, Francesca thinks of the solitude she will enjoy, never imagining that one chance meeting would change her life forever. Morrow singing "To Build a Home" and "What Do You Call a Man Like That?" show off her professional training and natural talents. Morrow is clearly cut out to be part of this amazing show and seems to fall easily into the character of Francesca.
The part of Robert Kincaid was played by the multi-talented Nick Szoeke who you may remember from THE HUNCHBACK OF NOTRE DAME (as Quasimodo). If ever there was a role made for a specific actor in mind, it was that of Robert Kincaid played by Szoeke. His portrayal was that of a true natural in the part as if it was specifically written for Szoeke. Belting out such songs as "Temporarily Lost," "A World Inside a Frame," and "It All Fades Away," you felt as if there could be no other actor to accurately play the part of photographer, hippy, nomad Robert Kincaid. Szoeke has natural talent and strength to carry out such a demanding role (not unlike that of Quasimodo in THE HUNCHBACK OF NOTRE DAME).
Along with the two leads in THE BRIDGES OF MADISON COUNTY, there were a multitude of supporting roles that were just as important to the story as Robert and Francesca. The actors playing Bud, Michael, and Carolyn were just as well prepared. The professionalism of Robby Vance (Bud), Ramsey Marion Sweatmon (as Michael), and Campbell Wilford (as Carolyn) proved that The Public Theater of San Antonio is truly a great theater to enjoy local shows.
Don't miss out on this incredible show now playing at The Public Theater of San Antonio until June 3, 2018. Shows are on May 24-May 27 and June 1-June 3. Go to The Public Theater of San Antonio's website for tickets and details.
PHOTO CREDIT: Kathy Strain
Related Articles View More San Antonio

Stories

Shows