Utah Opera's 40th Anniversary Season Continues with Heggie and Scheer's MOBY-DICK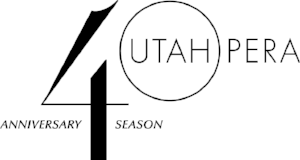 Utah Opera's 40th anniversary season continues this January with an all-new production of American composer Jake Heggie and librettist Gene Scheer's innovative opera adaption of Melville's classic novel, "Moby-Dick." Featuring new sets and costumes constructed by Utah Opera, "Moby-Dick" will be performed five times at the Janet Quinney Lawson Capitol Theatre on January 20, 22, 24, 26 at 7:30 PM, and January 28 at 2 PM. Tickets, priced from $15-$100, are available for purchase through www.utahopera.org or by calling (801) 533-6683.
Ever since its 2010 debut at The Dallas Opera, "Moby-Dick" has been described as an "undeniable success" ("The New York Times,") and has been lauded for its creative stage designs, capturing both the expansiveness of the ocean and intimacy of crew-mates onboard the whaling ship, the Pequod.
However, this production is different-Utah Opera is literally building "Moby-Dick" from the ground up, with goals of making the work as accessible as possible to opera audiences throughout the world. Prior productions of "Moby-Dick" dove deep in their use of technology and set size, but doing so had its drawbacks; only a half-dozen opera companies were able to fit the massive production on their stages. Utah Opera assembled a creative team including director Kristine McIntyre, set designer Erhard Rom, and costume designer Jessica Jahn to work with Utah Opera's highly respected scenic and costume artisans to bring this new production to reality.
"In this new physical production of 'Moby-Dick', Utah Opera is thrilled to show the community its full capability. Our staff artisans represent some of the finest in the industry," said Artistic Director Christopher McBeth. "Working closely with a world-class director and award-winning designers, they have brought to life one of my dreams and something truly special that will be seen on stages around this country and beyond." Utah Opera's "Moby-Dick" is co-produced with the Pittsburgh Opera, Opera San José, Chicago Opera Theater, and Gran Teatre del Liceu (Barcelona).
Tenor Roger Honeywell returns to the Utah Opera stage as Captain Ahab, a role he will reprise at the Pittsburgh Opera following this performance. Bass-baritone Musa Nqgungwana will play Queequeg, a role he too will continue on at the Pittsburgh Opera. The cast list proceeds with Joshua Dennis, who makes his Utah Opera debut as Greenhorn, and Baritone David Adam Moore returns to the Janet Quinney Lawson Capitol Theatre stage as Starbuck after his most recent role as Guglielmo in "Così fan tutte".
Tenor Joseph Gaines, who takes the role of Flask, and baritone Craig Irvin, playing Stubb, both return to the Utah Opera stage after their recent roles in "Le nozze di Figaro." Soprano Jasmine Habersham will play the role of Pip, the young ship boy, in her Utah Opera debut. Current Utah Opera Resident Artist and baritone Jesús Vicente Murillo will make his official Utah Opera debut as Captain Gardiner. Utah native, tenor, and current University of Utah student Keanu Aiono-Netzler plays Tashtego; continuing the cast list is Nigerian-American baritone Babatunde Akinboboye as Daggoo, a role he performed in the LA Opera production. Finally, Utah native Anthony Buck returns to play the Nantucket Sailor.
Joseph Mechavich, last with Utah Opera for the 2008 production of "Madama Butterfly," will lead the cast, Utah Symphony orchestra, and Utah Opera Chorus as conductor. Utah audience favorite Kristine McIntyre returns as stage director following acclaimed Utah Opera productions of "Don Giovanni," "Of Mice and Men," and "The Pearl Fishers." Ririe-Woodbury Dance Company Artistic Director Daniel Charon reprises his acclaimed partnership with Ms. McIntyre (seen in the 2015 production of "The Pearl Fishers") as choreographer for the production.
"At its core, 'Moby-Dick' is the story of a friendship. It's about how connection with another human being can literally save your life-and maybe your soul," said Ms. McIntyre. "Darkness and light. Destruction and survival. 'Moby-Dick' represents both what is best and worst about us-that our ability to hate and our desire to destroy is surpassed only by our ability to love. It is a story that is elemental, universal and at its core, deeply human."
The performance will last approximately 2 hours and 40 minutes with one intermission.
Related Articles View More Salt Lake City

Stories

Shows
More Hot Stories For You