Photo Flash: Meet the 'New' Richard Rodgers' Musical, REX, at UFOMT
Utah Festival Opera and Musical Theater Company is presenting the first full production of the newly revised, re-conceived Richard Rodgers musical, REX, in their 25th Season, opening July 6.
Lyricist, Pulitzer Prize- and three-time Tony Award-winner Sheldon Harnick will be in attendance, along with representatives from the Rodgers and Hammerstein organization. Script writer, Tony Award nominee and two-time Emmy Award-winner Sherman Yellen has been overseeing the rehearsal process from New York City. Scroll down for a sneak peek at the creative team and more!
"This is your chance to witness the rebirth and revision of a work with the living authors of the highest level of achievement," said UFOMT Founding Director Michael Ballam. "Witnessing such an experience is usually limited to professional theatrical insiders."
The musical is fully staged with costumes, lights and sets in a newly conceived production which took the original cast of 32 down to 12, with actors playing multiple roles. Michael Ballam plays the role of Henry VIII. The theme of the play is "Speaking Truth to Power" and revolves around Henry VIII and his relationship to his Fool, Will Somers, played by Stefan Espinosa. Will is the one constant throughout Henry's life, his relationships with his wives, his search for a male heir and his struggle with the idea of whether a woman, his daughter Elizabeth, would be capable of ruling England.
The musical "Rex" was written by Sherman Yellen, with lyrics by Sheldon Harnick (who also wrote the lyrics for "Fiddler on the Roof") with music composed by Richard Rodgers. It played on Broadway in 1976. Rodgers decided to pull the production in consideration of America's bicentennial, but with the intent of bringing it back soon after. Unfortunately Rodgers died and the production has "languished for more than 35 years," Ballam said.
Sheldon Harnick, Michael Ballam, Sherman Yellen and Director Maggie L. Harrer began meetings on the new script early in 2013 and, after seeing a reading of a partially revised script at UFOMT in that year, Sherman, Sheldon and Maggie have spent the last four years working on revisions. In 2017, Joseph Church, Broadway Musical Arranger, was added to the creative team to write new arrangements for the updated musical. Now, the newly revised show is being tried out in Logan with an aim to giving REX a new life in the theater.
Harrer, the director/choreographer, explained, "We all worked together diligently to find the heart of the musical. It's been an exciting process, discovering in essence a new musical that is particularly relevant to today! When we started talking about Speaking Truth to Power, we knew we'd found the central theme of REX. Rex is the Latin word for a king who has absolute power over everyone for his lifetime. The question then becomes, how does one speak truth to a man who has the power of life and death over you?"
"During the rehearsals, scenes have been revised and lyrics tweaked. One of the most exciting aspects was deciding to make this a quickly moving show with painted drops but real characters with whom the audience could connect, so you are able to focus on the relationships of the characters," Harrer said. " Playing before a live audience is the final, vital part of this rewriting process. Seeing how the audience and the actors relate gives us the final measure of the piece"
Utah Festival's 2017 season runs from July 6 to Aug. 9 and includes repertory performances of "The Hunchback of Notre Dame," "Madama Butterfly," "The Pirates of Penzance," "The Music Man," and "Seussical," in addition to "REX."
Sheldon Harnick will appear in a TRIBUTE TO Sheldon Harnick, July 19 at 7:30 PM., sharing stories about a lifetime in Musical Theater, including creating the musical Fiddler. He is a three-time Tony Award winner and a Pulitzer Prize winner. Harnick will be in residence in Logan for three weeks and has mentored Michael Ballam in the role of Tevye for "Fiddler on the Roof."
REX creative and design team includes: Associate Choreographer Lauren Camp, Music Director, Dallas Heaton, SM Nicholas Loweree, Costume Design Jennifer Shesko Wood, Lighting Design Chris Wood, Sound Design Carl Whitaker, Set Anne Benson, Prop Master Andrew Carney, Prop Artisan Ruth Stanley.
The performances of REX are part of the Utah Festival Opera and Musical Theatre's Twenty-Fifth season and opens July 6, 7:30 PM, in the newly rebuilt Utah Theatre. Other performances are July 10, a sold-out performance July 15, July 20, 28 and August 3 and 7. Tickets are going fast so contact the box office at UFOMT.org.

Newly re-conceived and rewritten REX creative team, , Sherman Yellen, Book Writer, Maggie L. Harrer, Director/Choreographer and Sheldon Harnick, Lyricist. Composer Richard Rodgers. REX opens July 6 at UFOMT. For info: UFOMT.org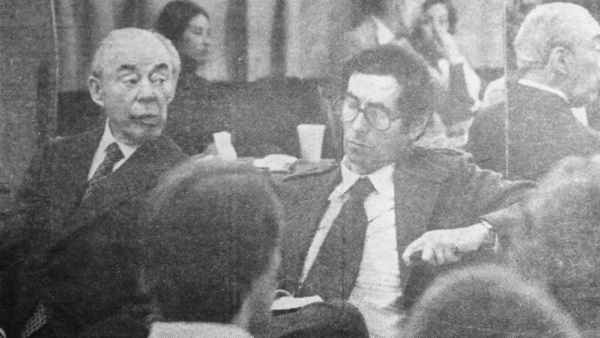 Rehearsal Photo from the original 1976 Broadway Production of REX, with composer Richard Rodgers and book writer, Sherman Yellen. The new REX opens July 6 at UFOMT. For info and tickets: UFOMT.org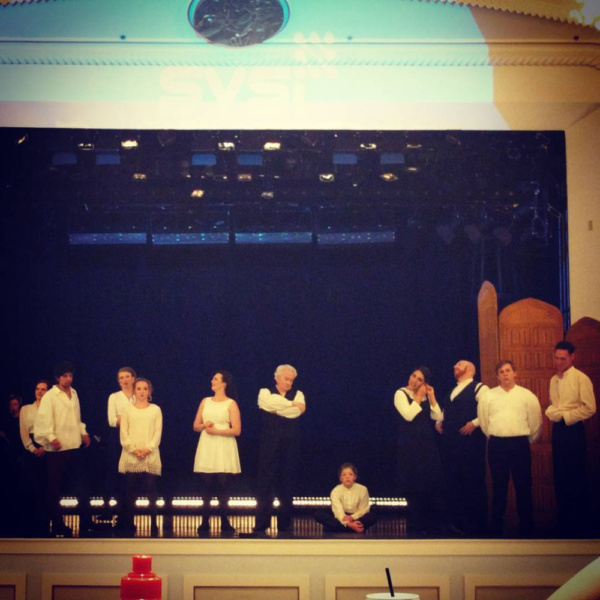 New REX cast waiting to begin a late-night rehearse the OPENING - L to Rt- Kathleen Farrar Buccleugh, Stefan Espinosa, Cabiria Jacobsen, Aiden Ankli, Kristin Vogel, Michael Ballam, Lily Allen, Jessica Mirshak, Errik Hood, Brian Skoog, Kevin Nakatani. Photo

UFOMT Founding Director Michael Ballam as HENRY VIII in the new production of REX, music by Richard Rodgers, Lyrics by Sheldon Harnick, Book by Sherman Yellen, Director/Choreographer Maggie L. Harrer, opening July 6 at UFOMT. For info and tickets: U