BWW Review: DISASTER! Shakes Up the Sacramento Theatre Company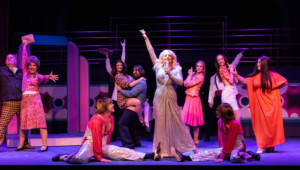 Sacramento Theatre Company is ending their 74th season of Love, Loss, & Laughter with an homage to the popular "disaster" movies of the '70s.
Disaster!
follows closely along the lines of
The Poseidon Adventure,
with some
Jaws
and
The Towering Inferno
sprinkled in. After enjoying two runs Off-Broadway and a brief stint at the Nederlander Theatre on Broadway in 2016,
Disaster!
brings its wit and dance-in-your-seat soundtrack to Sacramento through May 12th.
Disaster! covers the 1979 opening of The Barracuda-a floating casino and nightclub. Its developer, Tony Delvecchio (a properly slimy Tim Stewart), has decided to cut costs by skimping on safety requirements. Following up on a lead to expose Tony is fledgling reporter Marianne (Melissa Brausch) who, while on board, runs into the man that she left at the altar years earlier, Chad (Sam C. Jones). Professor Ted Scheider (Broadway World Award-winning Best Director and Actor Casey McClellan), an expert on natural disasters, tries to warn everyone of an impending earthquake and subsequent tidal wave, but is rebuffed and thrown off of the ship by Tony. After sneaking back on, he finds an ally in the ship's lounge singer, Jackie (a role that fits Natasha Hause like a glove). Others trapped on the ship include washed-up disco queen Levora (Miranda D. Lawson boasts mind-blowing pipes) and retired couple Maury and Shirley Winters (Michael Cross and Jamie Jones). Jones provides some of the biggest laughs with her portrayal of the disease that is slowly killing her, which I won't spoil by not divulging her symptoms. The show's superstar, however, comes in the form of piousness. A nun in recovery from a gambling addiction who is challenged with the biggest test of all-in possession of a quarter and face-to-face with the brand new Hawaii Five-O slot machine. Sister Mary Downy is played by Nicole Sterling, who was seen as Aldonza in last season's Man of La Mancha. Sterling's physical comedy is spot-on and her big number, "Never Can Say Goodbye," left everyone in tears of hilarity. Her Broadway counterpart garnered a Best Actress Tony nomination for the role.
This show boasts such a strong ensemble that I wish there had been more group numbers. "Hot Stuff" and "Knock on Wood" were two of the highlights of the evening, showcasing choreography by Nicole Sterling that utilized the talents of the dancers of the cast. The energetic 5-piece orchestra brought the hits of the '70s to life. Most theatre-goers will recognize the top-40 songs of the era such as "Saturday Night," "I Am Woman," "I Will Survive," and "Torn Between Two Lovers." The campy humor appeals to those who have lived through that decade as well as a younger audience who may be new to the genre. Disaster! is a strong finish to another wonderful season at Sacramento Theatre Company and has me looking forward to the next season of Decades, Divas & Diamonds!
Disaster! plays at Sacramento Theatre Company through May 12th. Tickets may be purchased at the STC Box Office at 1419 H Street, Sacramento, by calling (916) 443-6722, or online at www.sactheatre.org.
Photo credit: Charr Crail Photography