2021 Living Art Event at Westchester Collaborative Theater
Dates

3/6/2021 - 2/27/2021

Theatre


P.O. Box 522
Ossining,NY 10562


Tickets Info

$20/$25
Phone: 9142634953




The Ossining Arts Council and Westchester Collaborative Theater present the 2021 Virtual Living Art Event, showcasing seven original WCT one-act plays inspired by selected OAC artworks, live streamed every Saturday in March: March 6, 13, 20 and 27 at 8 pm.Paintings and sculptures by: Keith Gordon, Phyllis Kirigin, April Freeman Locke, Ted Berkowitz, Peg Tarnosky, Louise Belevich, and Jill KieferPlays, directed by Christopher Arena:Being Fifteen by Elaine Hartel - Two teenage girls exchange dark secrets in a park as they grapple with life in a difficult world.Glad Rags by Peter Andrews - Propriety faces off against exuberance as two arts professionals clash before meeting a wealthy donor.Hey, Dad by Carol Mark- With too many things left unsaid, an artist uses his talent in hopes of creating a connection to his father.A Pair of Pears by Schuyler Bishop - Tantalizing, though familiar objects, bring a long-married couple to the brink.The Bronze Lining by Tara Meddaugh - When two estranged sisters in mourning try to reconnect during a treacherous hike, they must confront whether there is too much damage between them to repair.The View from My Room by Pat ONeill - The flames of love have a tendency to burn the threads of the heart - It's a good thing this room is fireproof.To Have Normal by Evelyn Mertens A young father and his daughter seek an oasis of calm following a cataclysmic event that has upended their lives forever.The Living Art Event features performances by Amy Lowenthal, Torian Brackett, Michael Meth, Dante De Leo, Enid Breis, Lorraine Federico, Roberta Robinson, Rob Ansbro, Sasha Murray, Ava Purcel and Joanna FernandezTicket holders will be sent a link to the performance via email.

News About 2021 Living Art Event at Westchester Collaborative Theater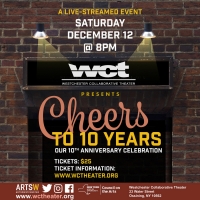 Westchester Collaborative Theater Presents A Tenth Anniversary Celebration CHEERS TO 10 YEARS
November 25, 2020
Westchester Collaborative Theater (WCT), which commemorates its 10th anniversary this year, is presenting a virtual event, Cheers To 10 Years, a celebration of the company's decade of success in developing new work for the theater. The production will stream live on Saturday, December 12 at 8 pm.