Songs for a New World at Chapel Theatre
Dates

2/10/2023 - 2/12/2023

Theatre


4107 SE Harrison St
Milwaukie, 97222
Facebook Instagram

Tickets Info

$25-$30
Phone: 971-350-9675




It's about one moment. It's about hitting the wall and having to make a choice... or take a stand... or turn around and go back. These are the stories and characters of today, the Songs for a New World. The first musical from Tony Award winner, Jason Robert Brown (Parade, Bridges of Madison County), this moving collection of powerful songs examines life, love and the choices that we make.
Featuring: Courtney Freed, Joshua Huppert, Kimo Camat, and Kristin Van Sickle.
Directed by Kristin Van Sickle
News About Songs for a New World at Chapel Theatre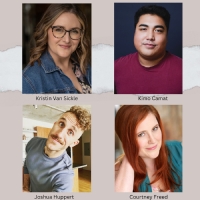 Jason Robert Brown's SONGS FOR A NEW WORLD to Play Chapel Theatre in February
January 22, 2023
The Off-Broadway hit Songs for a New World written by Jason Robert Brown will be performed at Chapel Theatre February 10-12, 2023.

10 Things to See at Fertile Ground 2019
January 15, 2019
The 10th Anniversary Fertile Ground Festival starts in just over a week! This year's festival features more than 70 works, including plays, musicals, storytelling, dance, comedy, and more.
Cast and Creative team for Songs for a New World at Chapel Theatre
Cast
Kristin Van Sickle
Woman 1
Kristin is a Vocal Coach specializing in Musical Theatre technique as well as a Vocal Performer and Teacher. She is currently the Chair of the Performing Arts Department at Northwest Academy where she teaches Vocal Music and Musical Theater. Since moving to the Pacific Northwest in 2013, Kristin has directed and music directed numerous shows in the greater Portland area. Some credits include the world premiere of the original musical The Kiss at Lakewood Theater (music director), Matilda the Musical at Imagine Theatre (director), Mary Poppins and Shrek the Musical at Journey Summer Theater (music director) and Youth Cast Director and Conductor for Portland's Singing Christmas Tree. Kristin is excited to be back on stage in a show that means so much to her.
Kimo Camat
Man 1
Kimo is a PDX native and studied Theatre at University of Portland. Some of his favorite past shows include You're a Good Man, Charlie Brown (Broadway Rose), Bella: An American Tall Tale (Portland Playhouse), Cabaret (Fuse Theatre Ensemble), Cinderella (Northwest Children's Theatre), and American Idiot (Triangle Productions). Most recently he was singing off stage as the Voice of the Plant for Stumptown Stage's production of Little Shop of Horrors. When not on stage, Kimo enjoys adventuring around the PNW and adding more plant babies to his collection.
Courtney Freed
Woman 2
Courtney is a Portland based singer, songwriter, creatrix and educator. She has been called a "whirlwind of excitement" as well as "effervescent" and "breathtaking." She has performed in many prestigious venues in New York City, Chicago and Los Angeles as well as Portland, where she resides. No stranger to the Oregon musical theatre scene, her most favorite recent roles were Florence in Chess at Lakewood Theater Company and Trina (Drammy nom!) in Live on Stage's Falsettos. She has also tread the boards of Portland Center Stage, Pixiedust Productions, Broadway Rose, Lakewood, Profile, Triangle Productions and many more! She is a proud member of the vocal teaching staff at Resound NW. She also sings lead with local swing band, The Courtney Freed Five. Her new album, "Big Crazy Love," a delicious combination of jazz inspired originals and covers was released in early 2022.
Joshua Huppert
Man 2
Joshua could not be more elated to come back to the stage after a long hiatus and to do so amidst the setting of such a beautiful work. Previous roles include Pinocchio in SHREK the Musical, Gideon in SEVEN BRIDES FOR SEVEN BROTHERS, Mister Mistoffelees in CATS, Chip Tolentino and William Barfee in 25th ANNUAL PUTNAM COUNTY SPELLING BEE, Lefou in BEAUTY and the BEAST, Simeon in JOSEPH and the AMAZING TECHNICOLOR DREAMCOAT, and Ensemble in CHICAGO - to name a few.
Chapel Theatre Frequently Asked Questions
What shows are coming up next at Chapel Theatre
Where is Chapel Theatre located?
Chapel Theatre is at 4107 SE Harrison St, Milwaukie.
What shows have played recently at Chapel Theatre