BWW Review: In THE HUMANS, a Holiday Dinner Becomes a Multigenerational Scrimmage at Artists Rep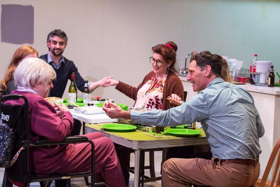 Ahh, the holidays. The season of eating too much, drinking too much, and fighting with family. Just in case you haven't gotten enough of these time-honored traditions on your own, you can head over to Artists Rep for Thanksgiving dinner with the Blakes.
Stephen Karam's THE HUMANS was one of the most anticipated events of Artists Rep's 2017-2018 season. It won the 2016 Tony Award for Best Play and was nominated for a Pulitzer Prize. It's also the show they remodeled the Morrison Stage for, because it requires an entire two-story apartment.
It's an outstanding play, using a holiday dinner to explore many issues that divide us on a family scale as well as a societal one. You'll recognize yourself and your loved ones -- for better and for worse.
The Blakes are like any other family. Erik and Deirdre (Robert Pescovitz and Luisa Sermol), the parents, are a working-class couple who live in small, declining town outside of Scranton, PA. Like many baby boomers, they are caregivers to a parent -- Erik's mother, "Momo" (Vana O'Brien) who is suffering from dementia. Their two daughters, Aimee (Val Landrum) and Brigid (Quinlan Fitzgerald), have left small town life behind. Aimee, the older one, is a lawyer in Philadelphia, while Brigid, the younger one, is a bartender and aspiring musician in New York City. For Thanksgiving, they all gather at Brigid's new place, a run-down apartment that she shares with her boyfriend, Richard (John San Nicolas), a trust-fund baby a few years away from being able to claim his riches.
You can see the tensions that exist: generational, socioeconomic, urban/rural. Add in family secrets and one too many drinks, and you've got a situation just waiting to boil over.
Like all family dinners, it's equal parts awkward and funny. The cast plays the funny bits for all they're worth, especially Sermol, who has many of the best zings, delivered in a perfect midwestern accent. I think they could wring a bit more out of the awkward. The show runs 90 minutes, and at times it felt rushed, especially during the most painful bits, when riding the pause would help escalate the tension. As it is, the climax is more like a surprise earthquake than a volcano that spews increasing amounts of steam before finally erupting.
The performance of the evening goes to Vana O'Brien. Although her part is mostly silent and the lines she does have are barely comprehensible, she broke my heart multiple times. This is one to remember when next year's BroadwayWorld awards time comes around.
If you want to see what's new and exciting in American theatre, go see THE HUMANS. It will also give you some good ammunition for your upcoming holiday meals.
THE HUMANS runs through December 17. Details and tickets here.
Photo credit: Russell J. Young