BWW Review: Gender Politics, Marriage, and Equality: A DOLL'S HOUSE, PART 2, at Artists Rep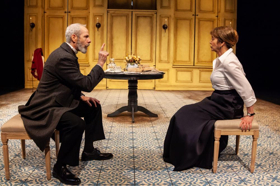 In 1879, Nora Helmer did what many people considered at the time (and still consider) the unthinkable. Realizing that marriage and motherhood made her miserable, she up and left. Ibsen's play A DOLL'S HOUSE ends with what, thanks to George Bernard Shaw, has come to be known as "the door slam heard around the world." It was so controversial that early audiences reportedly hung around after the curtain fell, waiting for Nora to come back.
Now, 140 years later, she has. Lucas Hnath's A DOLL'S HOUSE, PART 2, now playing at Artists Repertory Theatre (and the most-produced play of the season), tells what happens to Nora, answering one of the most burning questions in modern theatre.
In the sequel, Nora has done very well - she's become a writer, popular for a book about a woman who left the confines of marriage to seek a life of independence, i.e., about herself. The book was a bestseller and convinced some other woman to seek their own freedom, a fact that did not sit well with their husbands. Now, in a small amount of legal trouble, Nora walks back through the door she slammed 15 years earlier, not in contrition, but because she needs a favor from her husband, Torvald.
Though the sequel takes place 15 years after Nora left, both Hnath's script and Luan Schooler's direction are very modern, emphasizing that the issues that made this play so controversial at the time are still with us now. To put it in perspective - 1879 was the year the light bulb was invented. Technology has come a very long way. Gender politics? Maybe we're not as advanced as we think.
When Nora walks back through the door, she discovers some things that surprise her - that Anne Marie, the Helmers' nanny, is bitterly angry at her; that her daughter, Emmy, rejects her condemnation of marriage; and also that her leaving had consequences for everyone, and they weren't all what she had imagined. This play is about a lot of things - marriage, power dynamics, freedom, taking responsibility for your actions - but mostly it's about the importance of not just writing your own story, but also letting other people write theirs. There are no heroes or villains, no easy answers - there are just flawed people trying to figure things out for themselves.
Linda Alper and Michael Mendelson are excellent in the roles of Nora and Torvald. Having played husband and wife in countless Artists Rep shows, they've mastered the art of portraying people who simultaneously can and can't see each other, love/hate each other, and hurt/comfort each other.
I enjoyed A DOLL'S HOUSE, PART 2. It's smart and funny, and it raises questions worth grappling with as we work toward gender equality in personal relationships, politics, and society in general.
A DOLL'S HOUSE, PART 2 runs through March 3. More details and tickets here. Knowledge of Ibsen's original isn't absolutely necessary, but it does help. I suggest at least reading the synopsis.
Photo credit: David Kinder
Related Articles View More Portland

Stories

Shows
Krista runs a content marketing business in Portland, Oregon. She fell in love with musicals at age 5, when her parents took her to see (read more about this author...)