BWW Review: Clackamas Repertory Theatre's Delightful SENSE & SENSIBILITY Delivers Jane Austen at Lightning Speed, Propelled by Gossip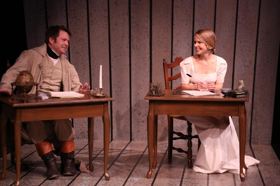 In his 2016 review of Kate Hamill's SENSE & SENSIBILITY, Ben Brantley of The New York Times wrote that the play "might be described as Jane Austen for those who don't usually like Jane Austen." Brantley's characterization proved true for Clackamas Repertory Theatre's production. After the show, I heard several people say some variation of "I loved it! And I don't usually like Jane Austen." I do usually like Jane Austen, and I loved it as well.
This SENSE & SENSIBILITY is different from previous Austen adaptations in part because of its dizzying pace. With more than 45 scenes and constant activity, Hamill's characters have almost no time for needlework. The playwright has also shifted the lens. Austen's story is intact (i.e., two sisters, Elinor and Marianne, learn that love requires equal doses of reason and emotion), but it's framed and driven by gossip. Someone's always watching, ready to spread juicy rumors of infatuations, affairs, scandals, and heartbreak far and wide. This all makes for a very exciting two-ish hours that leaves the audience laughing and also perhaps reaching for a tissue.
I saw the OSF production of Hamill's play a few weeks ago and found Clackamas Rep's production better in several respects, which I attribute largely to Karlyn Love's creative direction. Lacking a lavish set, Love makes ample use of her cast. In addition to 10 actors playing 23 parts plus the gossip ensemble, the actors become horses, carriages, and pets. They also hold up set pieces, peering around them to learn the latest dish. And sometimes they're just there, ensuring that moments of privacy are rare.
The agile cast is a mix of Portland stage regulars and relative newcomers, including Kailey Rhodes, who makes the most of her gift of subtle expressiveness as the reserved, long-suffering Elinor, and Molly Bowman as the young, emotional Marianne. The ensemble is particularly good, especially Olivia Shimkus as the manipulative Fanny Dashwood; Alex Fox, as the easily manipulated John Dashwood as well as the scoundrel John Willoughby; and Todd Van Voris, who condenses the character of John Middleton down to a constant string of jolly mumbles.
This was my first time out at Clackamas Rep, mainly because of the drive. But it was worth it, and I will be back.
SENSE & SENSIBILITY runs through July 22. Details and tickets here.
Related Articles View More Portland

Stories

Shows