BWW Review: COME FROM AWAY Celebrates Extraordinary Human Kindness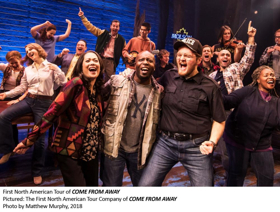 There are a lot of incredible stories of heroism on 9/11, from the firefighters who repeatedly put their lives in danger to save others to the passengers on United Flight 93 who saved an unknown number of lives when they kept the plane from hitting its target.
Undoubtedly, there are many other stories we don't know so well, ones that didn't involve mortal danger, but are still incredible stories of people helping people. Like the story of what happened in Gander, Canada, which was memorialized in the multi-award-winning musical COME FROM AWAY, now playing at the Keller Auditorium as part of the national tour.
Gander, a tiny town in the NE part of Newfoundland, used to be the refueling stop for transatlantic flights before planes could carry enough fuel to get them all the way across the pond. As a result, the town, which in 2001 had a population of about 9,000, has a pretty big airport.
When the 9/11 terrorist attacks happened, 38 planes en route to the United States were re-routed to Gander, where the locals opened their hearts and homes to nearly 7,000 "come from aways." In 2012, Irene Sankoff and David Hein turned the story into a charming musical that hit Broadway in 2017, becoming the longest-running Canadian musical in Broadway history.
Although I was excited to finally see this show, I admit that I expected it to be cheesy. But, it wasn't at all. Sankoff and Hein managed to create a show that's inspirational without being over-sentimental, funny without being irreverent, and uplifting without downplaying the gravity of the context.
They've also created a true ensemble show. The national tour features 12 very talented and hardworking actors who all play multiple characters -- Newfoundlanders and "plane people" -- which requires them to shift constantly between several different characters and accents. Almost all of the songs are ensemble pieces, which further underscores the feeling of community.
Overall, I loved COME FROM AWAY, from the opening bars to the spirited cèilidh that serves as the curtain call. If there's a show that can restore your faith in humanity, this is it.
COME FROM AWAY runs through March 3. More details and tickets here.
Photo credit: Matthew Murphy
Related Articles View More Portland

Stories

Shows