BWW Review: Brutally Funny, AN OCTOROON Reflects and Shatters Our Ideas About Race, at Artists Rep
When you arrive at Artists Rep for AN OCTOROON, you're given some "Rules of Engagement." First, use the restroom - the play is long and there's no intermission. Second, "this is a comedy, you are allowed to laugh audibly." Yes, that's right. Branden Jacobs-Jenkins' AN OCTOROON is a play about the racist history of the United States and the continuing racial struggle we find ourselves in today. And it's funny.
AN OCTOROON is a modern adaptation and critique of Dion Boucicault's popular 1859 play THE OCTOROON, a melodrama about a doomed relationship between a white plantation owner and an "octoroon," meaning someone who's one-eighth black, in the antebellum South. In adapting and critiquing Boucicault's play, Jacobs-Jenkins creates a show that challenges us to examine our ideas about race.
In the show, a playwright named BJJ (played by Joseph Gibson) tasks himself with reworking Boucicault's 150-year-old play, which takes place on a bankrupt cotton plantation. George Peyton, who has recently inherited the estate, must decide whether to save the property by marrying an eligible heiress, Dora (Kailey Rhodes), or to follow his heart by pursuing his love for Zoe (Alex Ramirez de Cruz), a relationship that's legally impossible because Zoe is an octoroon. Meanwhile, the villain M'Closky will do anything to get the plantation and Zoe for himself.
BJJ's task is made even more difficult by the impossibility of finding any white actors willing to play the racist parts. So, he dons whiteface and plays both Peyton and M'Closky himself. He's joined by Boucicault (Michael Mendelson), who paints his face red for the Native American character of Wahnotee, and Boucicault's assistant (John San Nicolas), who puts on blackface to play the dual roles of Pete, a house slave, and Paul, a young boy.
Then, the play-within-the-play commences, following more or less Boucicault's plot line, with contemporary dialogue, extra scenes that critique the racial themes of the original, and a disturbing climax that brings the play firmly into the modern day.
AN OCTOROON is an exquisitely crafted play, and this production, co-directed by Lava Alapai and Artists Rep artistic director Damaso Rodriguez, skillfully brings out the entire scope of the work. This starts with perfectly balancing the melodrama with realism, giving the audience just enough to laugh at that we let down our guards but not so much that the laughter overshadows the deeper truths the play has to offer.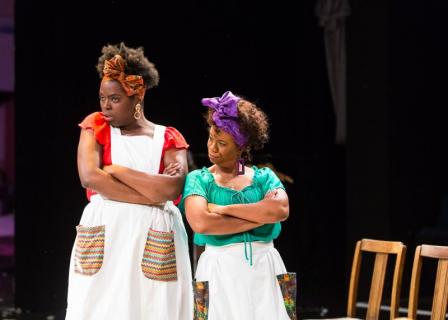 This effect is supported by fine performances all around. In particular, props to Joseph Gibson, who is on stage for almost the entire 110 minutes and plays three characters (the scene where Peyton and M'Closky get into a brawl is one of the best); John San Nicolas - I can't imagine how difficult it must be for him to play these parts every night; and Andrea Vernae (Minnie) and Josie Seid (Dido) - two house slaves whose banter provides much of the evening's humor as well as its food for thought.
The play holds up a mirror to our ideas about race and then proceeds to shatter them. From the use of blackface, redface, and whiteface to the house slaves carrying a sign that says, "I'm just going to say this right now so we can get it over with: I don't know what a real slave sounded like. And neither do you," AN OCTOROON shows us how ridiculous it is that the same backward ideas that were used to justify racial discrimination and slavery centuries ago are still alive and well today.
AN OCTOROON runs through October 1. Details and tickets here.
Photo credit: Russell J. Young
Krista runs a content marketing business in Portland, Oregon. She fell in love with musicals at age 5, when her parents took her to see (read more about this author...)