BWW Review: BEAUTY AND THE BEAST Brings Cartoons to Life at CLO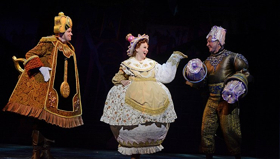 As I watched the opening scenes of Pittsburgh CLO's production of Disney's Beauty and the Beast, my first thought was how sparse it appeared. Then it hit me: CLO isn't underproducing, thousands of high schools are overproducing. Michael Heitzman's Pittsburgh production may not have fifty villagers and one hundred dancing forks, but it does have a small, multi-talented ensemble and a unique directorial vision.
The tale as old as time is the same as you remember it: kind-hearted but bookish Belle (Jessica Grové) is an anomaly in her prosaic French village. She spends her days helping her eccentric father Maurice (Jeffrey Howell, who doubles as the Narrator) and fending off the advances of local stud Gaston (Jason Michael Evans). All of this changes when she encounters a cursed prince turned Beast (James Snyder) and becomes his prisoner-slash-love-interest. Also, there's a talking clock.
Perhaps in response to the darker, slightly dour tone of the recent live-action adaptation, director Heitzman and choreographer Robbie Roby have embraced the lightest, brightest, silliest and most overall cartoonish elements of the show. This approach has its ups and downs- the recurrent use of Looney Tunes style sound effects for slapstick, pratfalls or things catching fire gets a bit grating- but it's totally in keeping with the original animated film, which (despite its brilliance) had not yet attained the relatively more sophisticated presentation style of later Disney Renaissance films like The Lion King or The Hunchback of Notre Dame.
Jessica Grové, small, petite and energetic with the perfect early-1990s ingenue voice, and James Snyder, hulking, monstrous and lugubrious with a thrilling baritone, make a perfect odd couple as Belle and the Beast. Grové, carrying the majority of the show's ballads, gets more of a choice to show it off than Snyder does- at the performance I attended, there seemed to be a push-and-pull to the tempo of Act 1 closer "If I Can't Love Her," which prevented Snyder's vocals from truly taking off until that anthemic final chorus. Heitzman and Snyder subvert the usual BATB balance, where Belle is headstrong and sarcastic in the face of the stoic and irate Beast: here, Belle is often the straight man to a Beast still very in touch with the insecure, even bratty, teenager he was when the curse was placed. It took me a while to warm to the Beast being one of the funny characters in the show, but by Act 2, the idea had grown on me.
This is a show that lives and dies by its supporting roles, and this cast does not disappoint. Pittsburgh mainstay Jeffrey Howell's Maurice is endearingly dotty, and his Shakespeare-trained speaking voice makes him a perfect choice to narrate the prologue as well. As Lumiere, Benjamin Howes is charming and fleet-footed, and the mini dance-duo he performs with Grové- including a brief nod to The King and I's famous ballroom polka- is one of the many highlights of classic production number "Be Our Guest." Like the Beast, Michael Di Liberto leans more silly than stuffy as Cogsworth, but he has great chemistry with Howes and with Jennifer Hope Wills, whose Mrs. Potts is as warm and comforting as anyone could hope. Also, props to Jessica Fontana, who simultaneously dances her can-can legs off and sings her coloratura heart out as Babette (thanks to an infamous misprint in the score, which made Babette the vocal obligato in group numbers instead of Madame de la Grande Bouche)!
The only two characters whose portrayal never quite gels are Gaston and LeFou, played energetically by Jason Michael Evans and Andrew Kruep. Maybe it's a reflection of the #MeToo era, but director Heitzman seems reluctant to ever get too real with these characters, even by the standards of comic relief villains. Evans looks suitably dashing, always striking poses and gesturing broadly, but his Gaston shades towards panto and away from musical theatre, even in Act 2 when the huntsman grows increasingly crafty and sociopathic. Kruep goes similarly cartoonish, though it's hard to fault him for that, as his slapstick, tumbling and clowning is very much in keeping with the role's traditional portrayals. Spoiler alert: after a whole show of abuse from Gaston, Kruep's LeFou finally gives him his comeuppance during curtain call.
Beauty and the Beast, on paper, is an astonishingly well-constructed show. The material is so solid, the songs so memorable, and the jokes so endearingly corny, that any production is guaranteed to be a crowd-pleaser. And with a cast like this, on a stage as large and well-equipped as the Benedum, there's no way Beauty and the Beast won't be a Disneyland-sized hit.
Related Articles View More Pittsburgh

Stories

Shows