Arizona Theatre Company Presents Idris Goodwin's THE REALNESS
The production will be available from 5 p.m., Nov. 18 to 5 p.m., Nov. 22.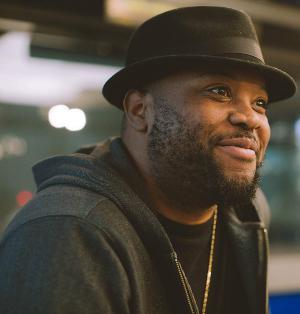 Arizona Theatre Company's (ATC) digital season continues with Idris Goodwin's break beat play, The Realness, which follows T.O. from the suburbs to the big city to immerse himself in authentic hip hop culture and the journey for his heart and true identity.
"Hip Hop is so much more than a musical genre. It is a cultural expression of both pride and social consciousness," said ATC Associate Artistic Director Chanel Bragg. "Idris Goodwin's thrilling new play is a love story that will reverberate deep within your heart."
The Realness, directed by Megan Sandberg-Zakian, will be accessible on ATC's website (www.arizonatheatre.org) as well as on Facebook, YouTube and Vimeo from 5 p.m., Nov. 18 to 5 p.m., Nov. 22. There is no charge to view the play, but donations to Arizona Theatre Company are encouraged and will be greatly appreciated.
For T.O. (Terrell Donnell Sledge), the "real" hip hop culture doesn't get much real than Prima (Analisa Velez), an MCsupporting her family. The moment he meets her, T. O. falls madly in love. But when he becomes tangled in the lies he tells to get closer to her, he's forced to ask himself: is he after real love, or fulfilling a middle-class fantasy of rap? Idris Goodwin takes on tough questions of authenticity and class collision with humor, heart, and killer rhymes in a coming-of-age tale set to the beat of hip-hop history.
The Realness also features Marcus John as Lord Style, Moya Angela as Professor Brown and others and Héctor Flores, Jr. as Roy and others. The creative team includes Sound Designer Mathew DeVore, Technology Director Ido Levran, Production Manager Becky Merold, Artistic Manager China Young and Stage Manager Alex Murphy.
For more information about these events and upcoming digital offerings at www.arizonatheatre.org.
ATC will bring live theatre back to the Temple of Music & Art in Tucson in January and the Herberger Theater Center in Phoenix in February to limited audiences with an entertaining and engaging six-show Mainstage Season chosen by Artistic Director Sean Daniels.
In addition to live theatre, ATC will release an exclusive limited-time broadcast of each performance for ticket holders uncomfortable returning to the theatre to view at home. Exclusive show broadcasts will be shot on opening night with three cameras and will be produced for at-home viewing.
Audiences for live performances will be limited to approximately 25 percent of theatre capacity, and shows will be held under strict Arizona Department of Health and Centers for Disease Control and Prevention COVID-protection guidelines.
The season opens with ATC Artistic Director Daniels directing the delightful award-winning musical, My 80-Year-Old Boyfriend, created by Charissa Bertels, Christian Duhamel and Edward Bell, Jan. 23-Feb. 13 in Tucson and Feb. 18-March 7 in Phoenix.
It will be followed by a new musical about Ruth Bader Ginsburg and Sandra Day O'Connor, the first two women to serve on the United States Supreme Court, Justice A Musical, written by Lauren Gunderson, with lyrics by Kait Kerrigan and music by Brian Lowdermilk, March 13 to April 3 in Tucson and April 8-25 in Phoenix; Nina Simone: Four Women, written by Christina Ham, directed by Tiffany Nichole Greene, April 24-May 15 in Tucson, May 20-June 6 in Phoenix; Women in Jeopardy!,Wendy MacLeod's riotous comedy, directed by Daniels, Tucson June 5-26 and in Phoenix July 1-8; how to make an American Son, by ATC Artistic Associate christopher oscar peña, directed by Kimberly Senior, a co-production with Rattlestick Playwrights Theater, Tucson July 17-August 7 and in Phoenix Aug. 12-29; and The Legend of Georgia McBride, written by Matthew Lopez and directed by Meredith McDonough, Tucson Sept. 25-Oct. 16 and in Phoenix Oct. 21-Nov. 7.